You know you want to take a photo for your travel document yourself and (ideally) not spend a buck.
But can a free passport photo app deliver on its promise?
Well, they can't.
Biometric photos must meet stringent requirements (e.g., size, background), and no free passport photo maker can do it all for you (let alone guarantee your picture will be accepted).
So—
For your convenience, we tested 8 premium and free passport photo apps to help you make an informed decision. Read on to find out which software is best!
The apps we've reviewed:
Looking for maximum convenience, expert verification, and a refund policy? Get it all with our Passport Photo Booth App for iOS or Passport Photo Maker App for Android. Take your biometric passport photo with a seamless 3-step process—from home!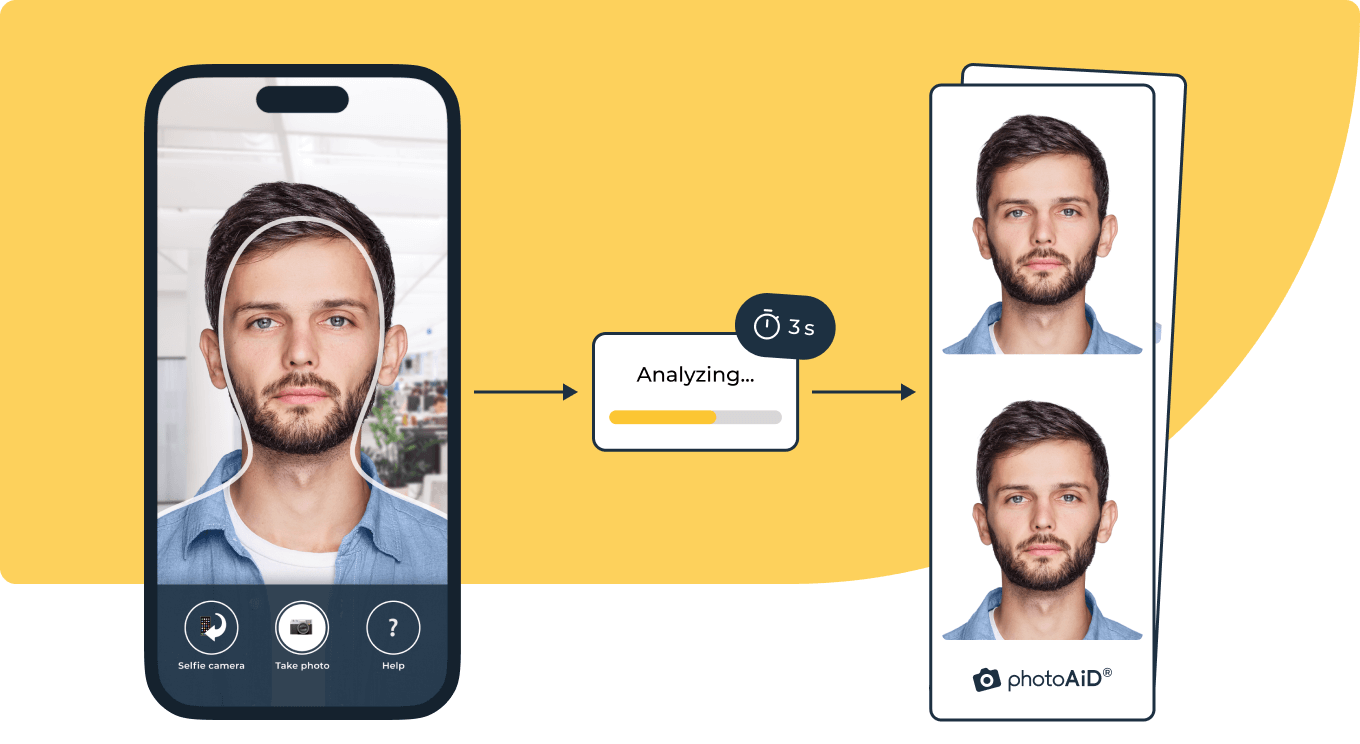 Become an expert at taking your own passport photos with photo booth apps by reading these articles:
Now, let's review the best passport photo apps!
Top 8 premium & free passport photo apps compared
It's no wonder passport photo apps are gaining popularity. After all, we take 450+ selfies every year on average—so we do seem to have the necessary experience to take pictures of ourselves.?
In fact, taking passport photos at home has never been easier.
All you need is your trusty smartphone and a tool dedicated to creating biometric photos compliant with the US passport photo requirements.
Here's a handy table comparing the most important features of popular passport photo apps to see which one can satisfy your expectations.
A Comparison Table of the Best Passport Photo Apps
Tool
PhotoAiD®
PersoFoto
Pic4Pass
Passport Photo—ID Photo
User-friendliness
5/5 ⭐
3/5⭐
4/5⭐
3.5/5⭐
Essential features 
(cropping, resizing, background removal)
✅
❌
❌
❌
Compliance check
✅
❌
✅
❌
Printing service
✅
✅
❌
❌
Premium plan
$16.95
$9.75
❌
$6.99
Tool
Passport Photo & ID Maker
iVisa Passport Photo
IDPhoto4You
ID Photo Application
User-friendliness
4/5⭐
3.5⭐
2/5⭐
3/5⭐
Essential features 
(cropping, resizing, background removal)
❌
✅
❌
✅
Compliance check
❌
✅
❌
❌
Printing service
❌
✅
❌
❌
Premium plan
$6.99
$5.89
❌
❌
1. PhotoAiD® [5/5 ⭐]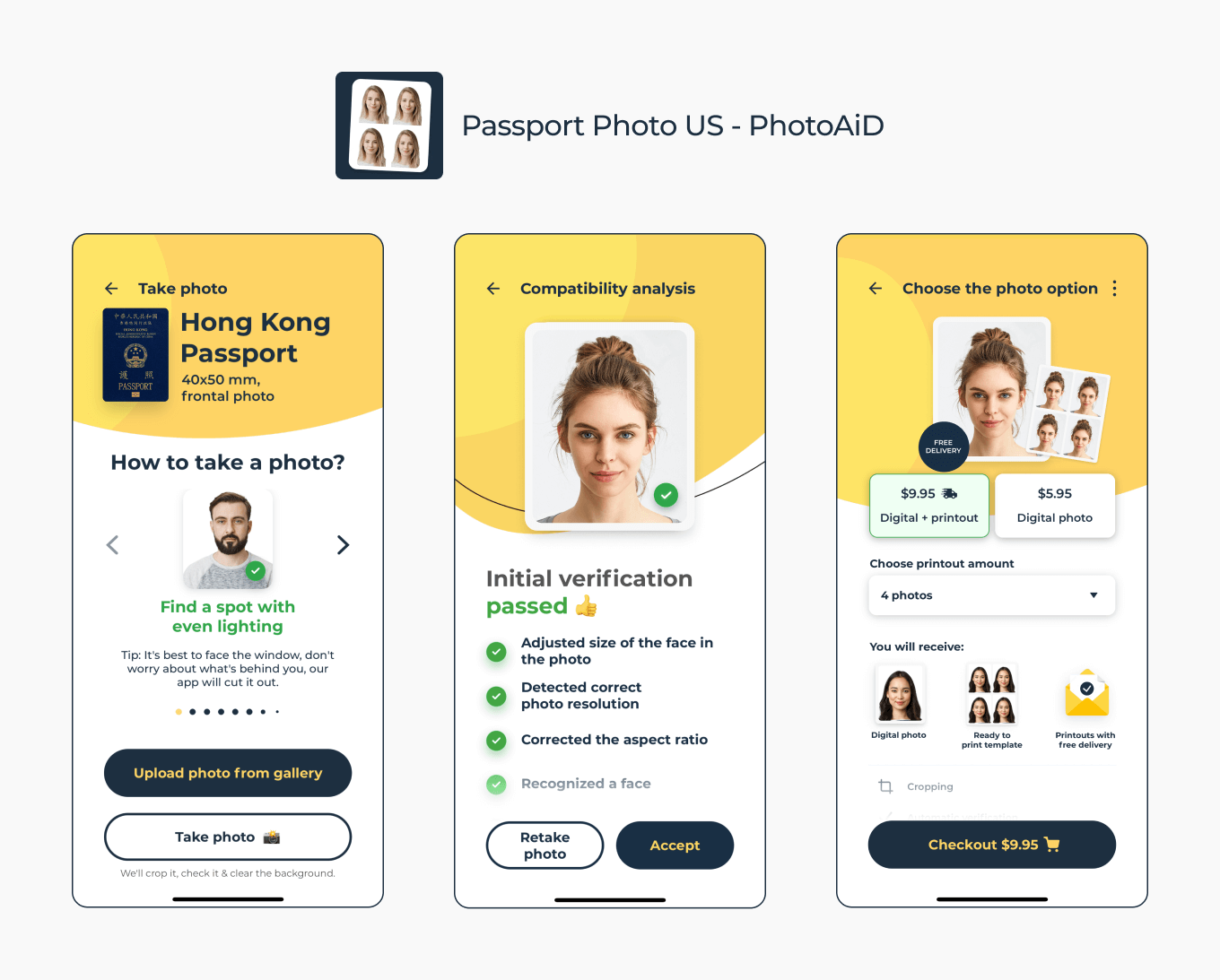 We can't rate our own product. But if you're looking for the best experience and expert results—you shouldn't swipe past our passport photo app.
Available for iPhone, Android, or online, you've got your passport photos within fingers' reach. Convenience aside (it takes only 3 steps to get passport pictures), we guarantee something no free passport photo app will—a 100% acceptance or 200% money back.
We've helped over 1 million people get their passport and visa photos accepted. Why not add yours to the count?
Why choose PhotoAiD®:
✅ Intuitive interface
✅ Quick & simple process—get a verified photo in 3 steps!
✅ Unlimited shots at no additional cost
✅ Expert verification
✅ Customer service 24/7
✅ Digital passport photo in 3 mins
✅ Printing service
✅ Refund policy
With a solid 4.7⭐ rating on Trustpilot, we're confident to say we deliver professional quality you can trust. But you don't have to take our word for it—we'll let our reviews do the talking: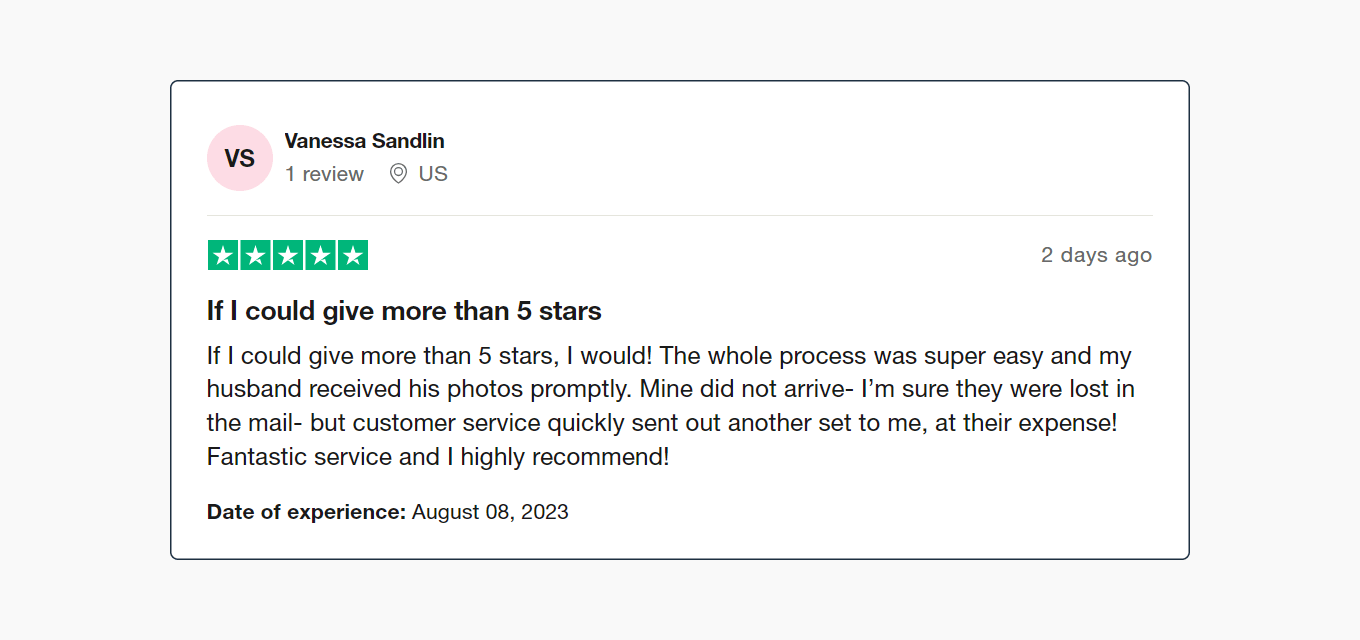 Download our Passport Photo Booth App for iOS or Passport Photo Maker App for Android today to get the perfect passport photo in a few clicks!
2. PersoFoto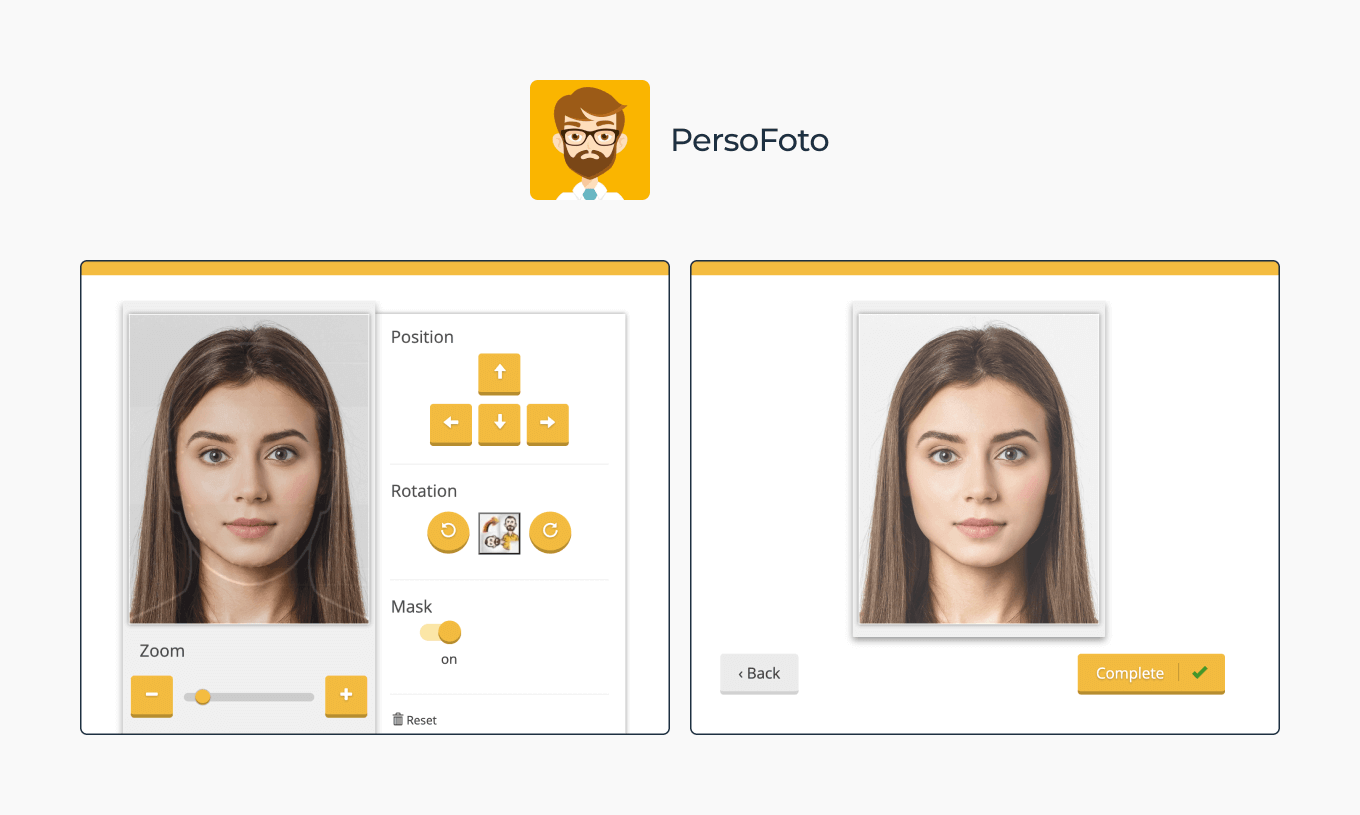 Onto the first entirely free passport-size photo maker—PersoFoto, which you can use in your browser.
This software's interface might be a bit dated, but the tool does what it promises. You can crop your image to match a predefined size, although the drop-down menu to find a document may get confusing.
It's a simple app, and the cropping feature is fully manual—upload an image and align the mask filter (see in the visual above) with the outline of your face. Within a few minutes, you should have your passport-size photo ready.
But—
Like with all free apps for passport photos, it's not enough to get an image compliant with US passport photo guidelines—you need to remove the background yourself. If it's not a problem for you, choose from these best tools to remove the background we've reviewed.
Pros
Cons
✔️ Free
✔️ Cropping tool
✔️ Printing service (paid)
❌ Compliance check only available in the paid version
❌ No background remover
❌ Confusing drop-down menu
User ratings: 4.6 (30+ reviews)
Our score: 3⭐
3. Pics4Pass (BioID)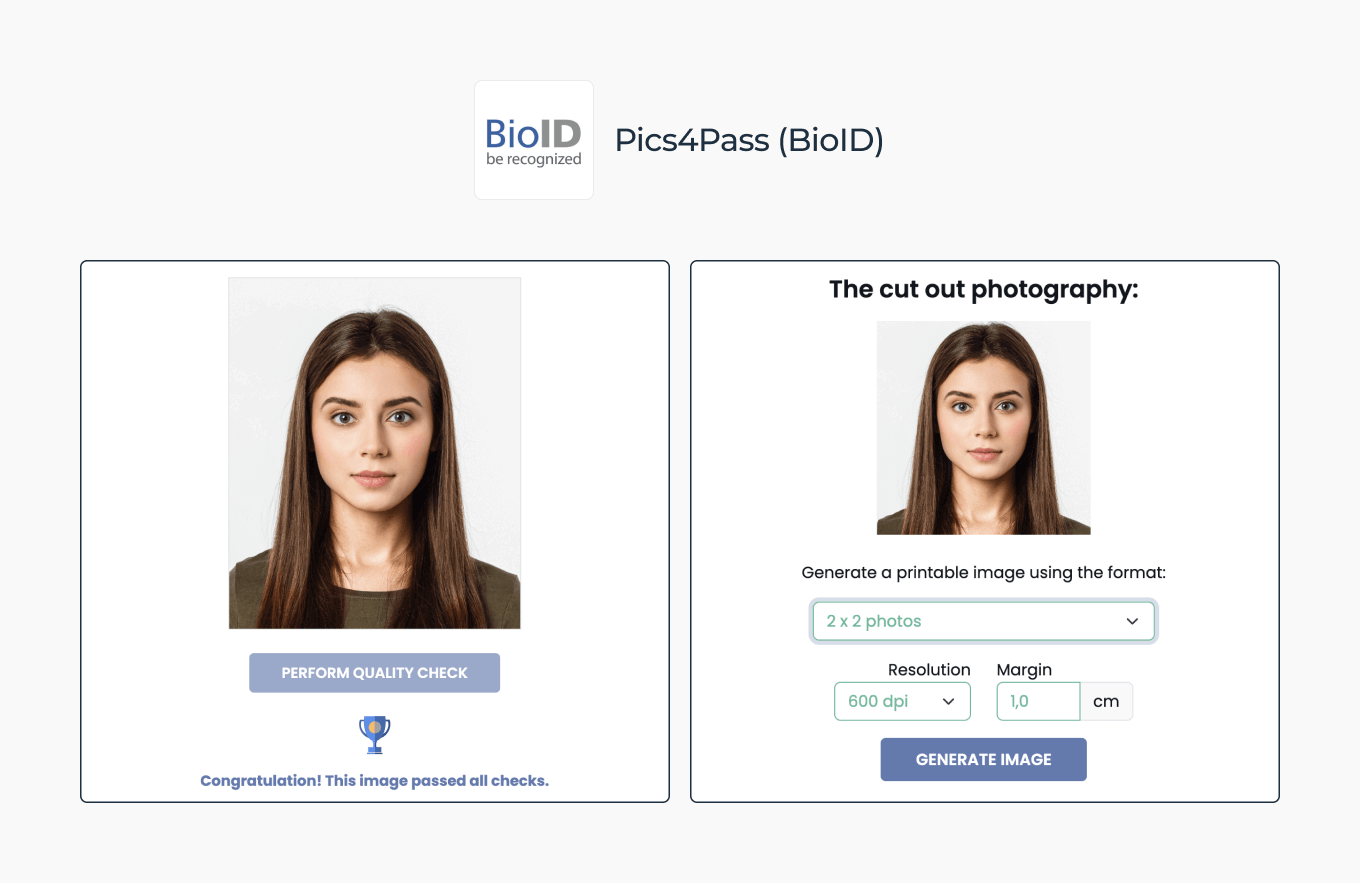 A slightly better (or at least more reliable) option to get passport photos for free is this online passport photo editor. Pics4Pass also won't erase the background of your image, but it has two features that make it stand out from other free passport photo tools.
For one, the cropping process is automatic. Choose the document type you need, upload a photo, and wait for the image to be resized. Even better? This German photo maker offers AI verification—the app will check if your photo meets official requirements. Should anything be wrong, you'll see change recommendations on the screen.
On the downside, the app has no acceptance guarantee to avoid getting your passport photo rejected. Additionally, you need to register to use Pics4Pass free of charge.
Pros
Cons
✔️ Free
✔️ AI verification
✔️ Cropping tool
✔️ Automatic process
❌ No background removal
❌ Need to create an account (free)
❌ No printing service
❌ No compliance guarantee
User ratings: no data
Our score: 4⭐
4. Passport Photo—ID Photo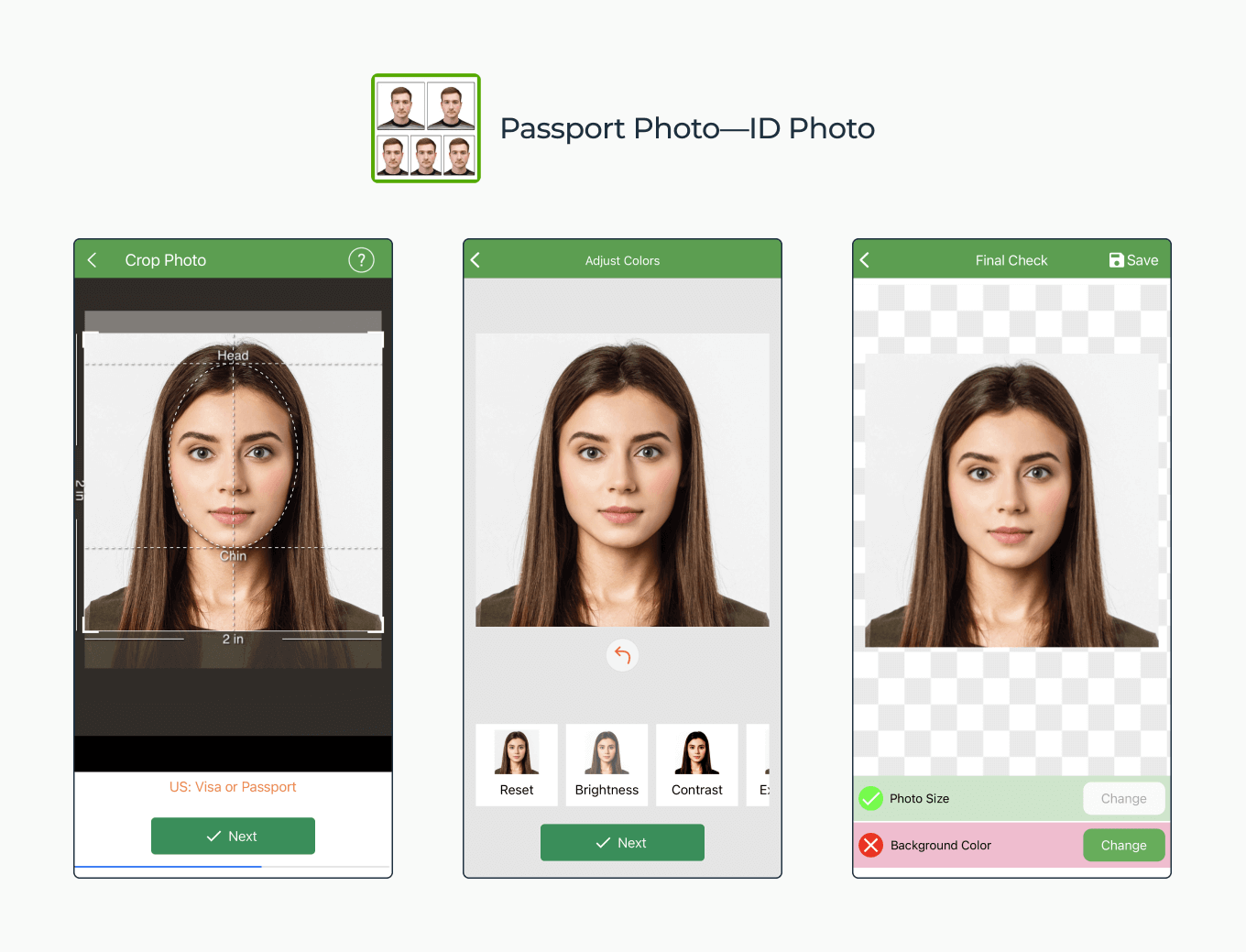 Only need a photo for passport renewal? This app doesn't offer printed photos, but you'll get your digital image (also for visas or IDs) in a few clicks.
Cropping is manual, but you'll be just fine if you follow on-screen instructions. The only thing we found annoying was intrusive ads—you can't skip them, so the process takes longer.
If you're not willing to upgrade to premium ($6.99), yet again, you'll need to remove the backdrop of the image yourself. However, the app has no compliance checks or acceptance guarantee, even for a fee.
Pro tip: This free passport photo software lets you adjust the light exposure and contrast of an image, but we recommend to steer clear of that. Rules for biometric pictures are stringent, and any such alterations may get your passport photo rejected,
Pros
Cons
✔️ Easy navigation and editing
✔️ Cropping tool
❌ Intrusive ads
❌ Background remover only available in the paid version
❌ No compliance check
❌ No printing service
User ratings: 4.7 (4.5k+ reviews)
Our score: 3.5⭐
Download for iOS.
5. Passport Photo & ID Maker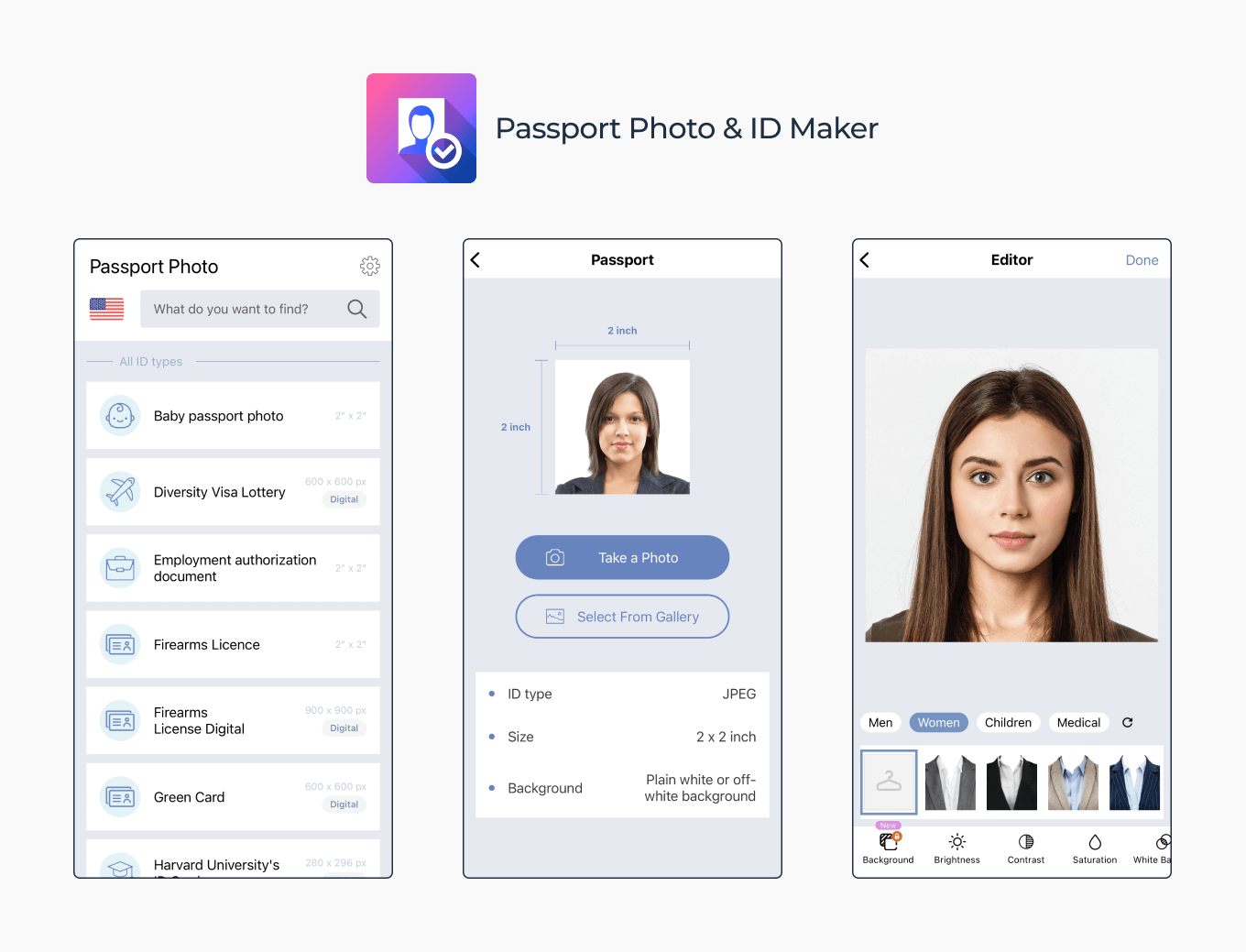 If it's your first time taking a DIY passport photo, Passport Photo & ID Maker may be worth a shot. Modern interface, easy navigation, and examples of passport photos—all to make the process more convenient for you.
Converting your uploaded or snapped photo into the correct size won't be a hassle. Plus, this free passport photo app has a large country database, so you don't need to remember details such as required dimensions or background color.
In the premium version, you can also order prints. However, photos for some document types aren't available for printing.
Pro tip: Want to print passport photos yourself? Here's how to easily print passport photos on 4×6 paper.
Pros
Cons
Pros
Cons
✔️ User-friendly interface
✔️ Cropping tool
✔️ No ads
❌ Background removal only available in the paid version
❌ No compliance check
❌ Printing service only available in the paid version
User ratings: 4.6 (450+ reviews)
Our score: 4⭐
Download for iOS.
6. iVisa Passport Photo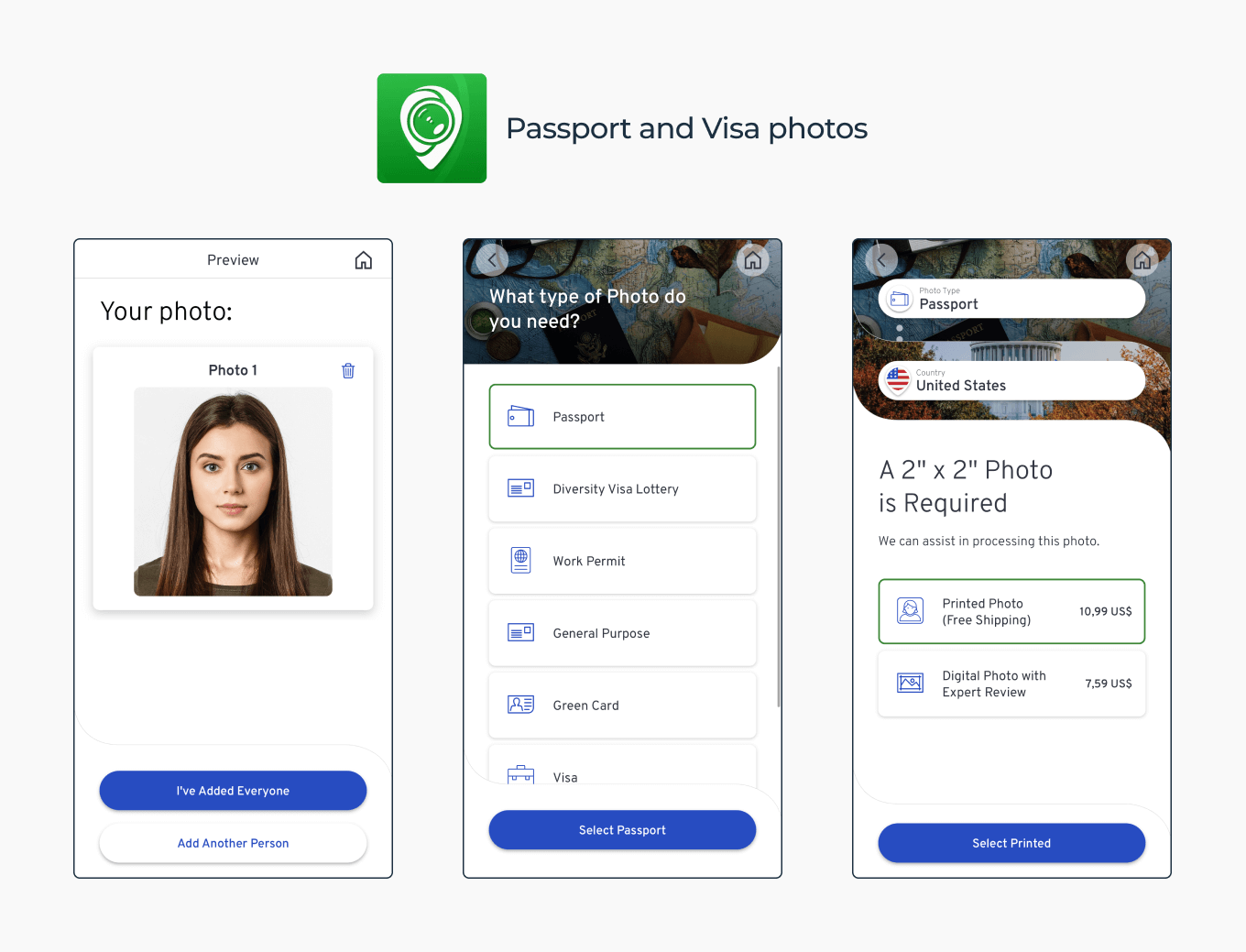 Automatic process, cropping, expert reviews, and background removal—but not for free. With iVisa (available to both iPhone and Android users), you can easily get a digital passport pic, but—
You can't preview the passport image before you make a purchase. Considering it's a premium tool, we find it to be an issue. An advantage is that this app mentions a money-back guarantee. However, no details are provided.
Note that with this app, you can only take selfie-style pictures. If you need a photo for your passport, it shouldn't be an issue. But snapping pictures of your child or an elderly family member could be problematic.
The biggest downside?
Before using this passport photo booth, you must submit your contact details (phone number and email). This could be a deal-breaker if you're not sure you want to use this service, as you'll likely get several emails reminding you to complete your order (like we did during testing).
Pros
Cons
✔️ Pleasant interface & easy navigation
✔️ Compliance guarantee
✔️ Money-back policy (but no details)
✔️ Automatic process
❌ Only selfie-style photos
❌ Need to provide contact details upfront
❌ Can't preview the final picture before purchase
User ratings: 4.8 (1.7k+ reviews)
Our score: 3.5⭐
Download for iPhone or Android.
7. IDPhoto4You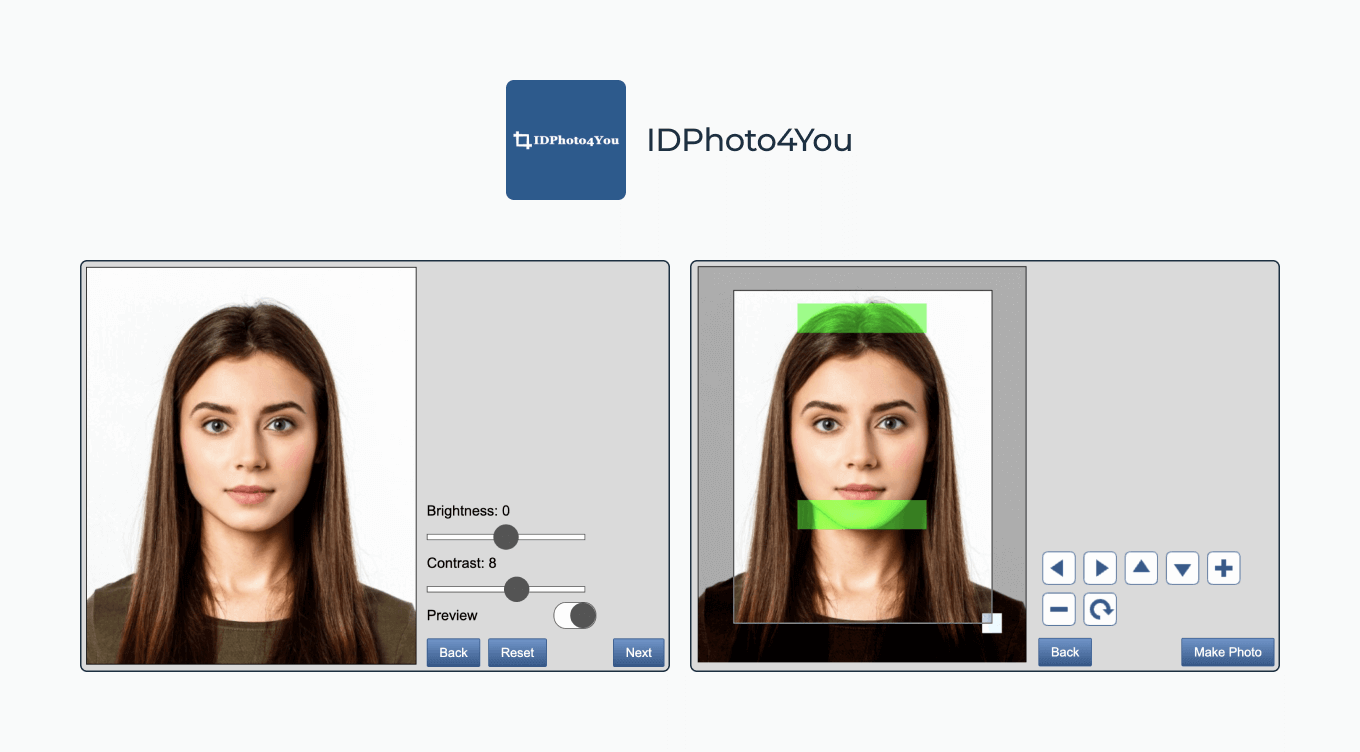 IDPhoto4You is another fully free passport photo app where you can resize an uploaded image. However, that's where the pros end (especially since no online reviews are available to confirm).
As for the acceptance guarantee, you're on your own. The website is transparent about taking no responsibility in case your photo gets rejected—and you have to agree to that in their terms and conditions before you upload an image.
Cropping in the free version is manual and slightly confusing. Yes, the instructions on how to adjust the green rectangles are clear. But no matter which photo we uploaded, it was impossible to align them correctly.
Now, even if you successfully resize your passport photo, you won't be able to use it for online renewals (no digital image provided). The app offers only passport photo templates to print on your own—you can download yours after a 70-second wait.
Pros
Cons
✔️ Free
✔️ Cropping tool
❌ Dated interface
❌ Manual process
❌ Inaccurate cropping tool
❌ No background remover
❌ No digital photo available
❌ No compliance guarantee
User ratings: no data
Our score: 2⭐
8. ID Photo Application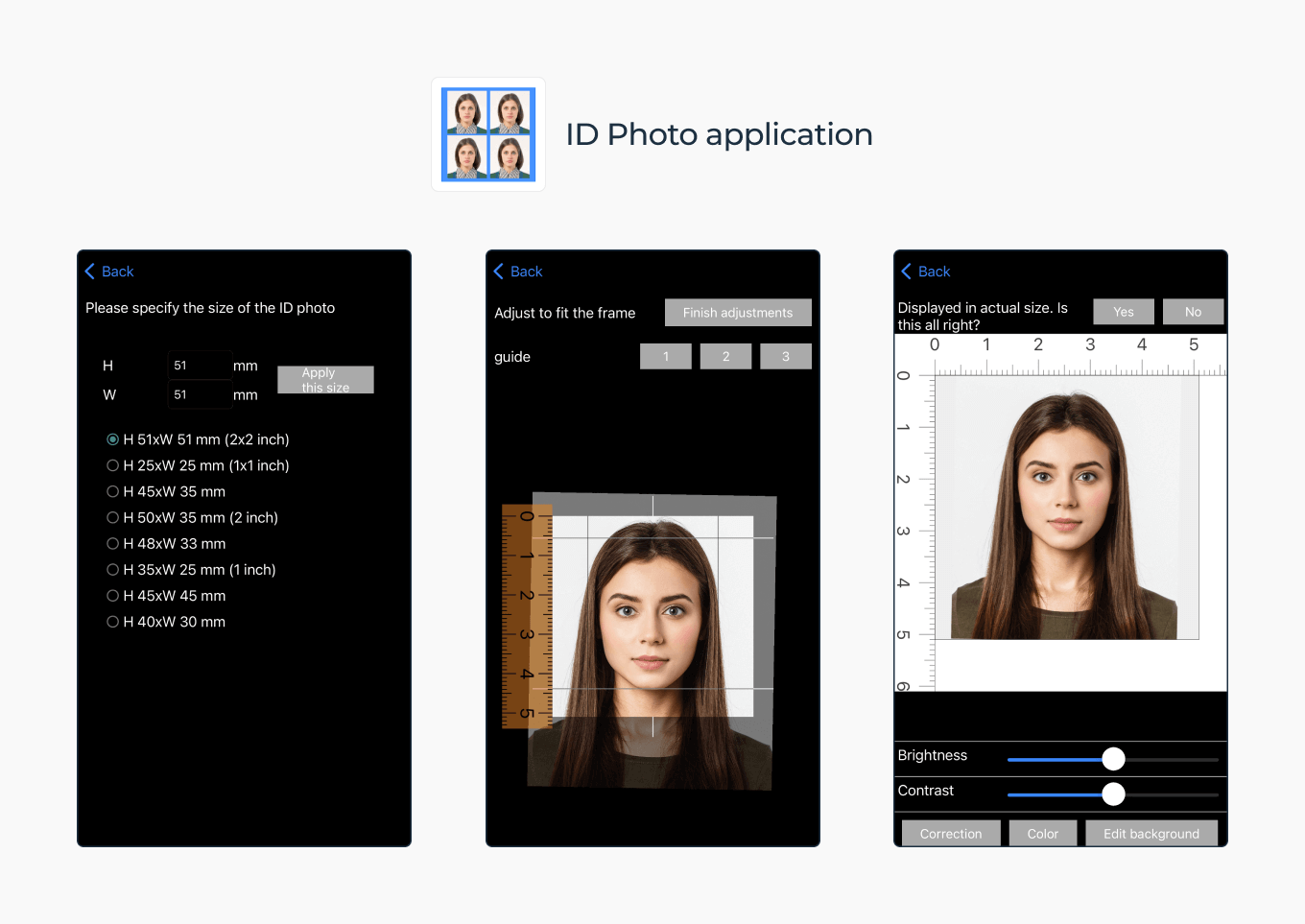 A free passport photo app with a cropping tool and a background remover? We found one—but it's not without flaws.
For starters, the app has an image-size database, but it's uncategorized. So, you need to know the exact size passport photo requirements beforehand. Note that all dimensions are given in millimeters—an extra step for those looking for US passport pictures.
Now, what about the background remover? It works, but erasing the backdrop with a magic tool is wanky. During our test, we had to redo the process several times (each with a 30-second ad in-between), and still the tool failed to create an acceptable white background.
Similarly to other free passport photo applications, no compliance check or acceptance guarantee is available.
Pros
Cons
✔️ Cropping tool
✔️ Background remover
❌ Manual tools
❌ No compliance check
❌ Intrusive ads
❌ No document-specific size database
User ratings: 4.7 (133k reviews)
Our score: 3⭐
Download for iPhone or Android.
Tips for taking passport photos at home
Whichever free passport picture app you decide to use, the most crucial point is knowing how to take the right photo in the first place.
So, to maximize your chances of passport application getting a green light, follow these photo tips:
Background: Since most apps won't erase the backdrop for you, snap a picture in front of a white or off-white wall
Smile: Smiling in passport photos is allowed in the US, but it must be a gentle, close-mouth smile
Clothing: Avoid light-colored clothes and camo patterns
Hair: Make sure the oval of your face is clearly visible. According to passport photo hair requirements, your eyebrows also must be unobstructed
Glasses: Both sunglasses and prescription glasses are prohibited in US passport photos. If you can't remove them for medical reasons, you'll need to submit a signed doctor's statement
Pro tip: Need a photo for your child's passport? Baby passport photo requirements differ slightly from those for adults. See our tips on making the photo-taking process easier.
No time to take photos unsure whether you tick all the boxes? Let us worry about it. Use PhotoAiD® to comfortably get a good passport photo for your official document in 3 minutes. Our biometric photo experts will ensure it meets all guidelines—or you'll get your money back.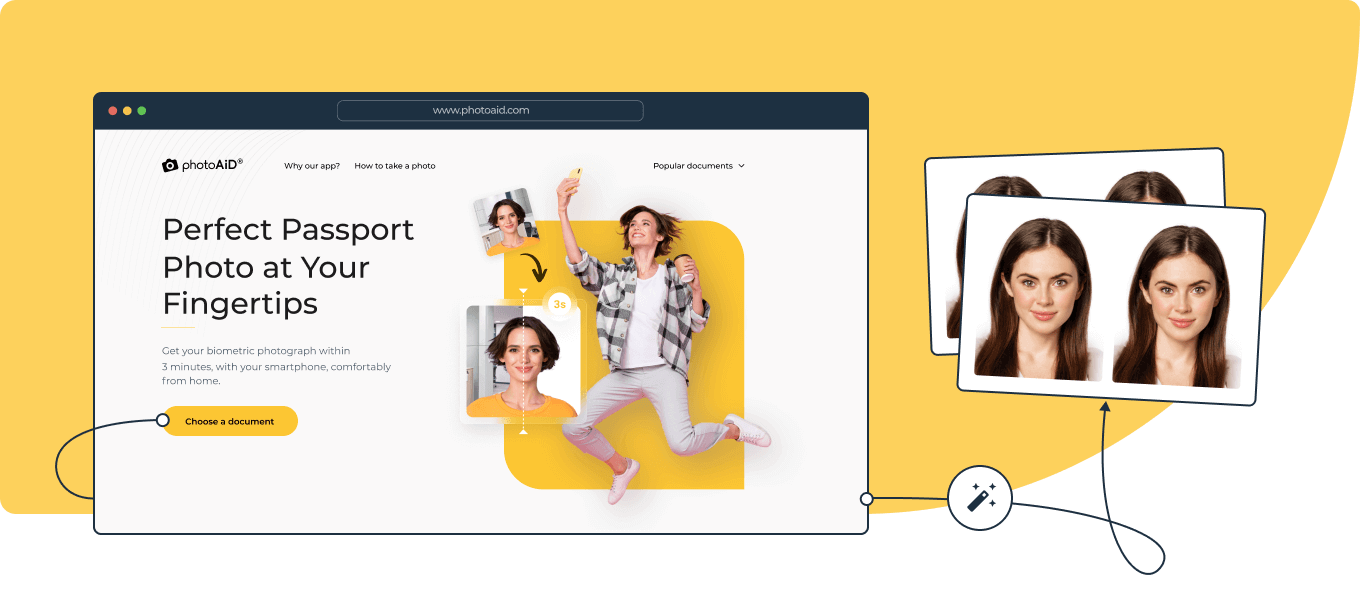 FAQs
Can I take passport photos at home?
Yes, taking passport photos at home is quick and simple if you follow the instructions we laid out in our guide. With the help of the right tools (and your phone's camera), you can take your own passport photo in 3 minutes or less.
Is there a free passport photo app?
PersoFoto or Pics4Pass (by BioID) are examples of free passport photo tools. However, such software can't create images meeting all biometric photo standards. Read our reviews of the most popular online and mobile apps to see which tool is best for you.
What is the free app for changing the background of passport photos?
This free background remover from PhotoAiD® will do the job. You can use it to erase the backdrop of an uploaded image to meet official passport photo standards.
Do passport photo apps work?
Yes. Many passport photo apps rely on advanced AI technology and offer human verification. For example, with PhotoAiD®, you can get perfect passport photos done in 3 minutes—with a compliance guarantee and refunds.
Summary
We take biometric photos out of necessity rather than pleasure. It's no wonder you want to save a few bucks on pictures you don't need and may not even like. But—
A "free" price tag often means there's a catch—and it's certainly true with free passport photo editors.
As you can see in our reviews, such software won't create compliant passport photos, as they simply don't have the necessary features (e.g., background removal). So, in the end, you'd have to spend a good chunk of your time playing around with several editing tools to tick different passport photo requirements.
And still risk getting your photo rejected.
Review your options and pick the best passport photo app to save you time and money!