So, you'd like to try to take a passport photo using your iPhone but you're not sure how to get the best results? Or if the picture you take will get accepted by the authorities?
We've got you covered.
In this guide, we'll walk you through a simple process of taking a high-quality passport photo on an iPhone.
Here's what we'll cover:
Take a passport photo in 3 minutes with PhotoAiD®—the most reliable Passport Photo Booth App for iOS. 100% compliance guaranteed or double your money back!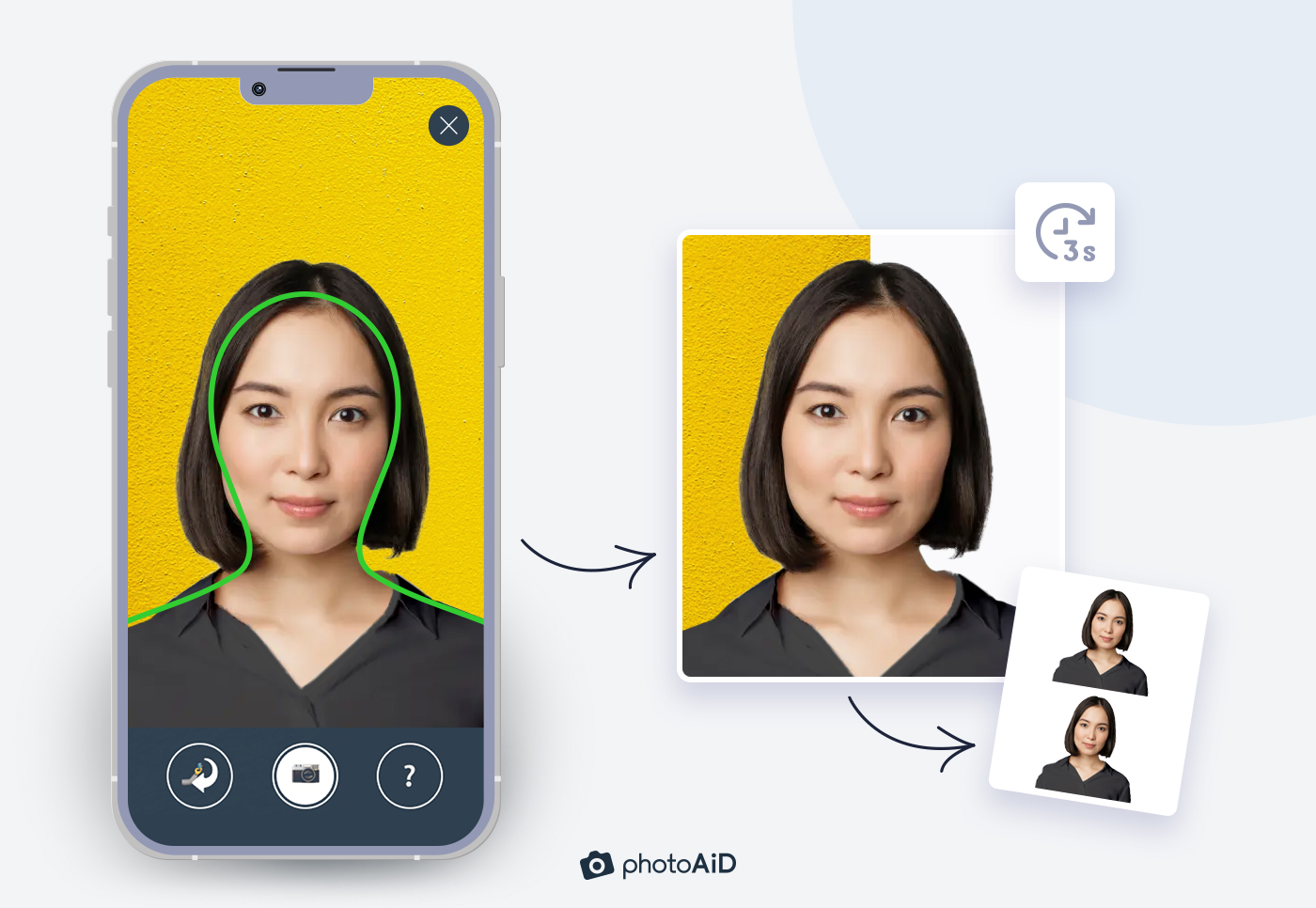 Looking for something else? Check out these related articles about taking your own passport photo:
Learn the requirements for passport photos before you start shooting
Taking a passport photo with an iPhone is quick and simple—
But you need to prepare.
Unacceptable images may get your entire application rejected. And that's what we surely don't want to happen.
So, before you start shooting, have a look at the most important US passport photo requirements in the table below:
| Requirement | Details |
| --- | --- |
| Size | The standard US passport photo size is 2×2 inches (51×51 mm) |
| Head dimensions | Your head should be between 1 inch and 1⅜ inches (25 mm and 35 mm) from the bottom of your chin to the top of your head |
| Background | The light background of your photo should be plain white or off-white. Ensure there are no patterns, shadows, or other objects visible in the background |
| Photo quality | Passport pictures should be in color, with proper lighting and focus. There should be no visible pixelation, glare, or shadows on your face. Portrait mode isn't allowed |
| Recency | Your passport photo must be taken within the last 6 months |
And here's an example of what a good passport photo should look like.
Example of a Compliant Passport Photo Taken on an iPhone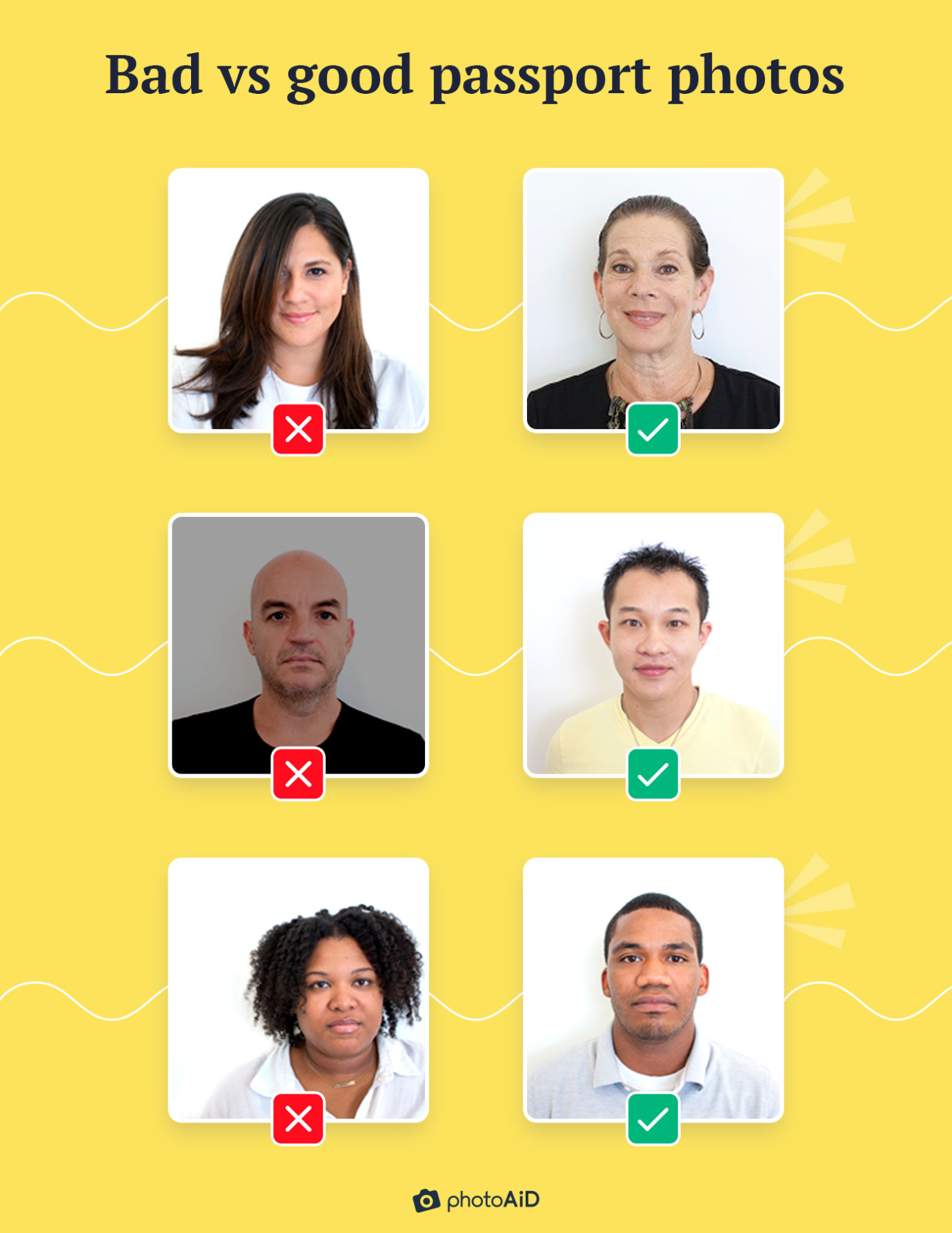 Without further ado, let's jump right in.
How to take passport photos with iPhone's default camera
Taking a passport photo with an iPhone is pretty straightforward. All you need to do is follow these four steps:
Step 1: Find the right spot
To avoid passport photo shadows, look for a well-lit area with natural light, preferably near a window. Make sure to stand against a plain background, like a white or off-white wall.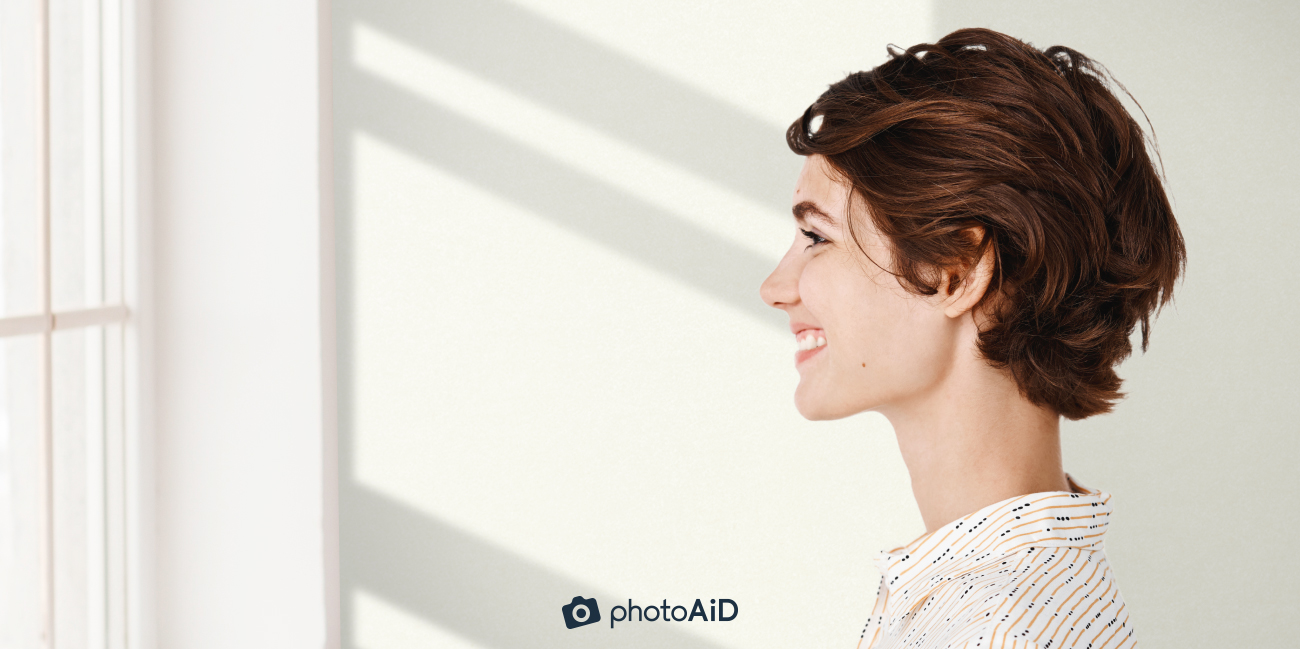 Step 2: Set up your iPhone
Place your iPhone on a stable surface or use a tripod to ensure a steady shot. Adjust the camera settings to the highest resolution and disable any filters or effects. Switch to the rear camera, which typically offers better image quality than the front-facing camera.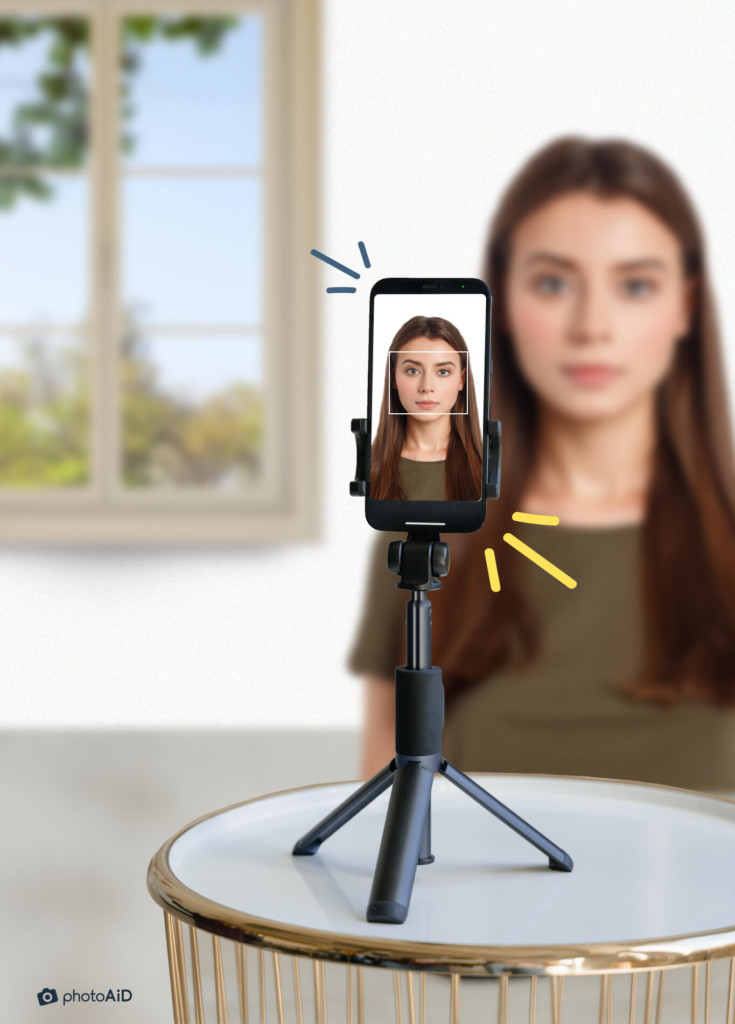 Pro tip: You can adjust the resolution of your camera here: Settings→Camera→Formats→High Efficiency.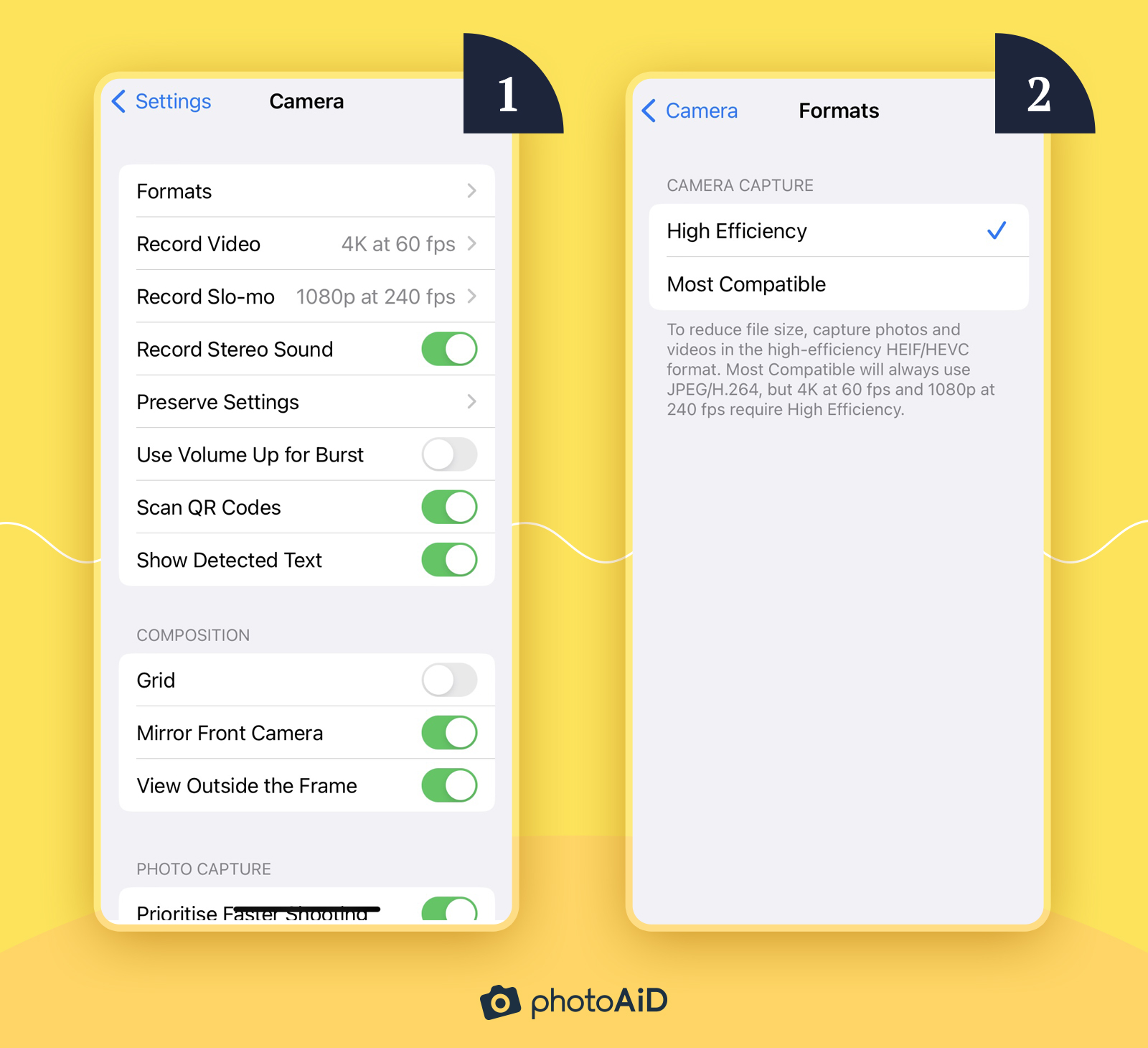 Step 3: Take the photo
Here's how to get your passport photo on an iPhone right:
Stand about four feet away from your iPhone, facing the camera directly.
Keep your head straight, with a neutral expression, eyes open, and mouth closed.
Make sure your entire face is visible and framed correctly—including the neck and the top of your shoulders.
Use your phone's self-timer feature or ask a friend or family member to take the photo for you.
Step 4: Edit the picture
Once you've captured the perfect shot, you'll have to crop and resize your iPhone passport photo to the specific size (2×2 inches, 600×600 px).
You can use such tools as this free background remover or photo cropper.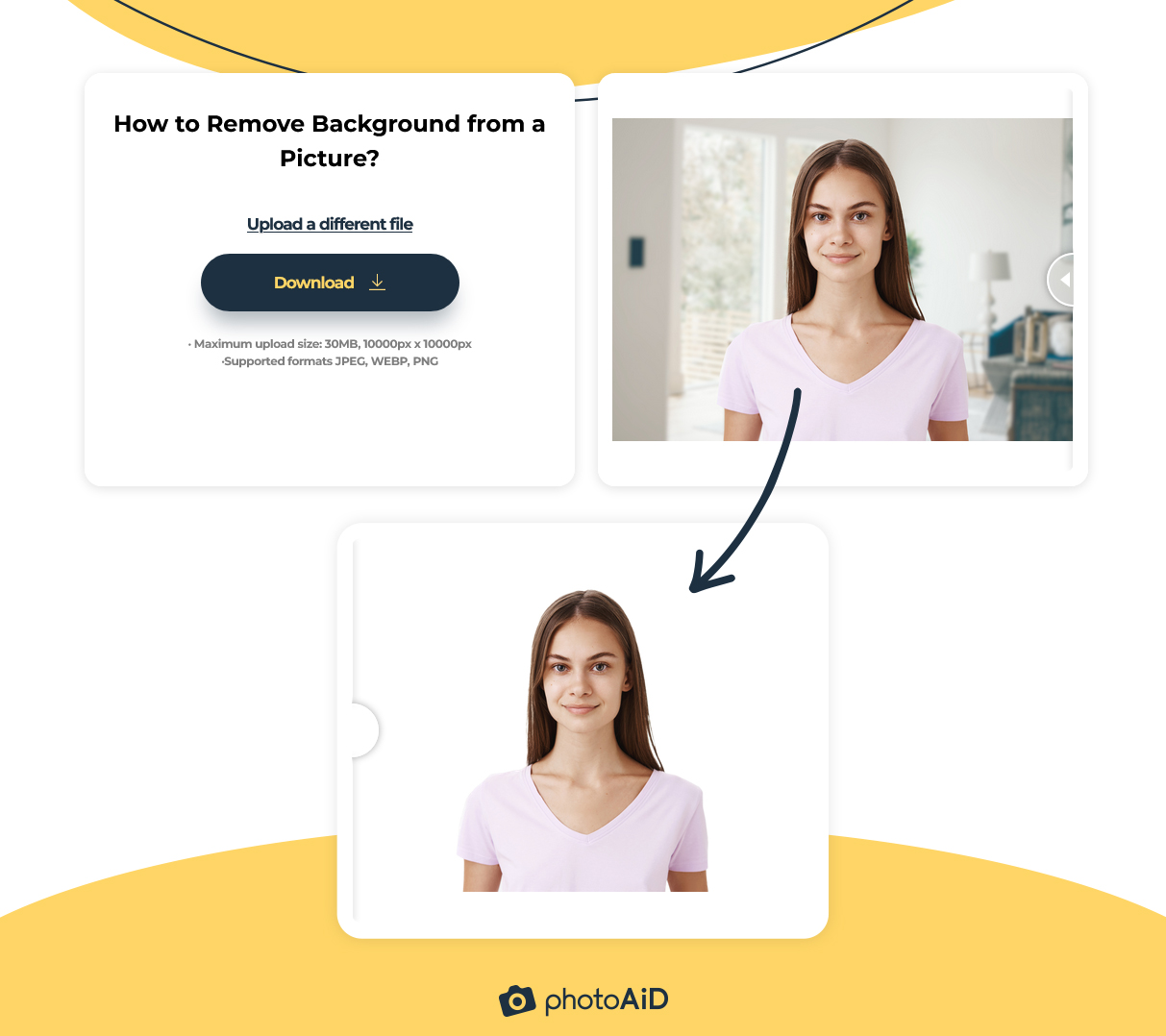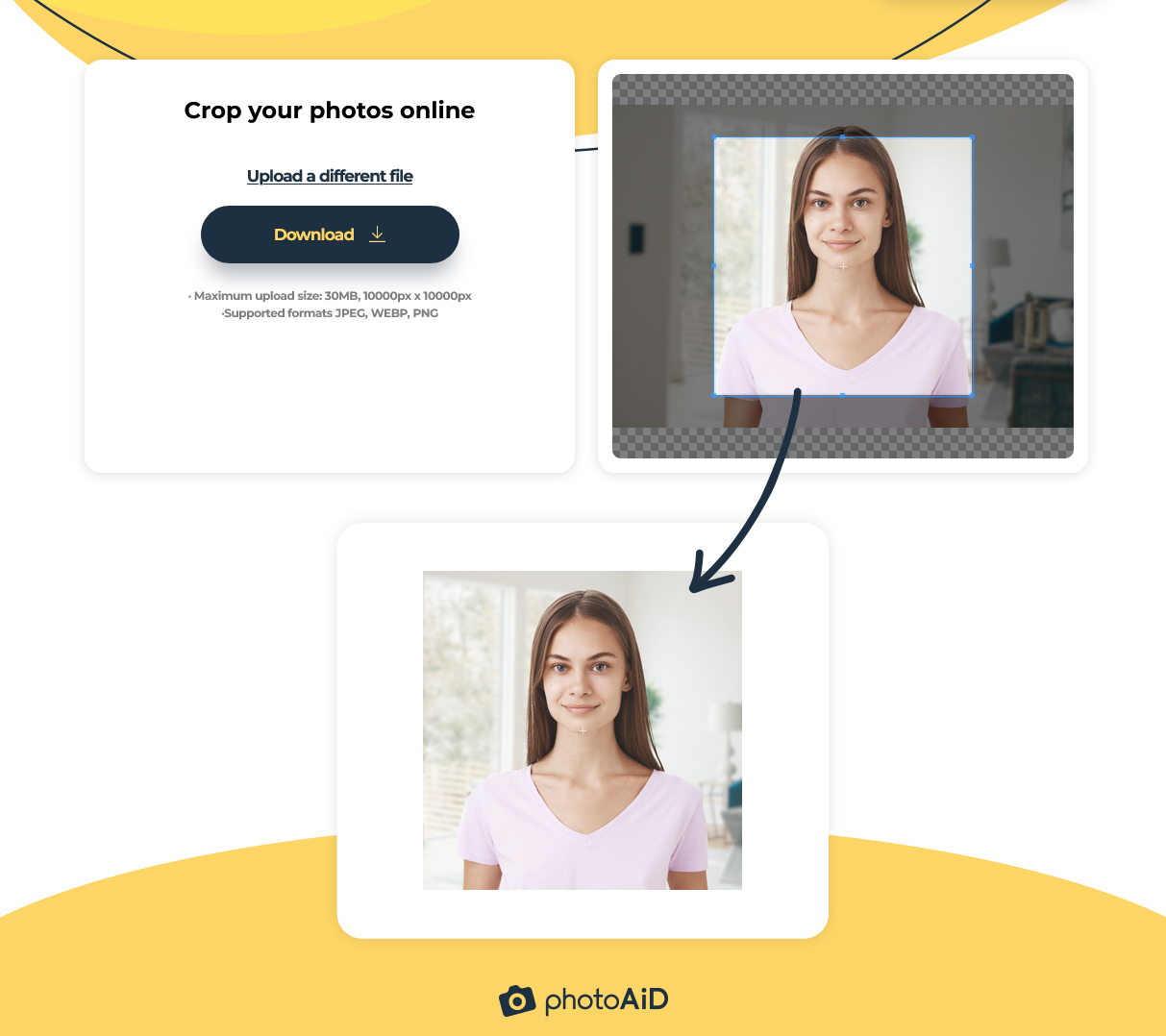 Pro tip: iPhones now have a built-in feature to remove the background. You just need to tap the subject in the picture and hold your finger on it for a moment. Once you see glaring white lines around the face, click "Share" and save the photo.
That's it! Your DIY passport photo is ready.
But—
If you're not sure you got the requirements right, a bit of help from photography experts would do you good. Try this alternative method of taking passport photos with an iPhone below for professional results!
Take a passport photo with an iPhone and enjoy a 100% compliance guarantee
The standard camera on your phone lacks a dedicated mode for identity documents.
In other words, you have no guarantee your picture will be 100% compliant even if you follow all the steps mentioned above.
However—
If you favor peace of mind and convenience, you may consider using one of several dedicated photo booth apps, which are becoming increasingly popular—even among professionals.
I think that apps for taking photos for official documents are a perfect solution [. . .] I myself have never had a human take any biometric photograph of mine, and I've always opted for automated solutions.

Rosie Matherson, photographer
So, which app would be a reliable option?
We'll show you how this works using our own Passport Photo Booth App for iOS—PhotoAiD®.
Here's what the full process looks like:
Take a photo following our tips and the official requirements. Take multiple shots (for free) until you're satisfied.

Upload your image. The AI and biometric photo experts will verify the image to ensure it'll be accepted. If the photo needs to be retaken, we'll let you know—together with details on how to fix the issue.

We'll send your compliant digital photo to your email address. You can now use it for an online application or print it out!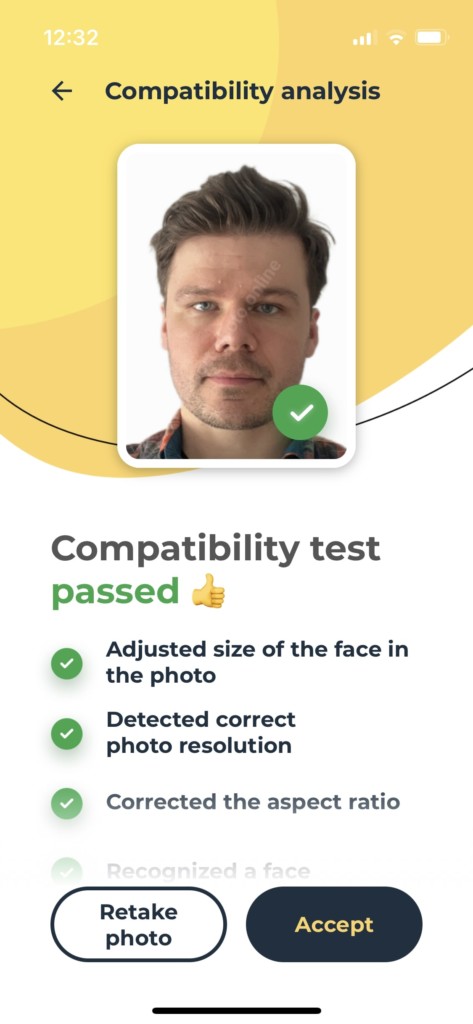 That's it! The process takes 3 minutes, and you can be sure your picture will be accepted—or get a 200% refund.
Tips on taking a passport photo with iPhone
Ready to snap your DIY photo? Keep these best practices in mind when taking a passport photo on an iPhone to ensure the passport office accepts your image.
✅ Dos:
Keep a neutral facial expression with your eyes open and mouth closed. You can smile, but only gently
Make sure your hair doesn't cover your face (bangs are allowed if you wear them every day)
Take your glasses off. You can wear glasses only if you need them for medical reasons (you must provide a signed doctor's statement). In this case, be sure to avoid tinted glasses and thick frames
Keep your jewelry on if you want to (including facial jewelry) but make sure it doesn't obstruct your face
❌ Don'ts:
Wear any white or off-white clothes (they'll blend in with the white background and invalidate the photo). Opt for dark or light blue clothing instead
Wear extreme makeup as your photo must reflect your natural look. Choose light, natural makeup
Edit the photo. You can't remove blemishes, change the saturation, or remove the red-eye effect
Wear any head coverings (hats, hair bands). Only headgear for medical or religious reasons is allowed
Do you need more specific guidelines? Read all about US passport photo requirements to learn if your photo is compliant!
Or check out this video with helpful tips on how to take a passport-size photo with an iPhone.
FAQs: passport photos on an iPhone
Still need more information on taking passport photos with an iPhone? Read these FAQs.
Where can I take my own passport photo?
You should take your photo in a well-lit area with neutral lighting to satisfy the photo quality requirements. Ideally, snap a picture in daylight, against a white or off-white background (e.g., a white wall) to avoid shadows. For more tips on how to take a passport photo at home, check out this guide.
How do I crop a photo to passport size on iPhone?
Is there a free passport photo app for iPhone?
Yes. Have a look at our expert reviews of free passport photo apps to find the best passport photo app for iPhone. Note, however, that free tools don't offer a compliance guarantee or refund in case your passport picture gets rejected.
You can also convert your image on a laptop! Try PhotoAiD®'s online photo editing app. That way, you can easily create passport photos (or ID photos) at home—in 3 steps!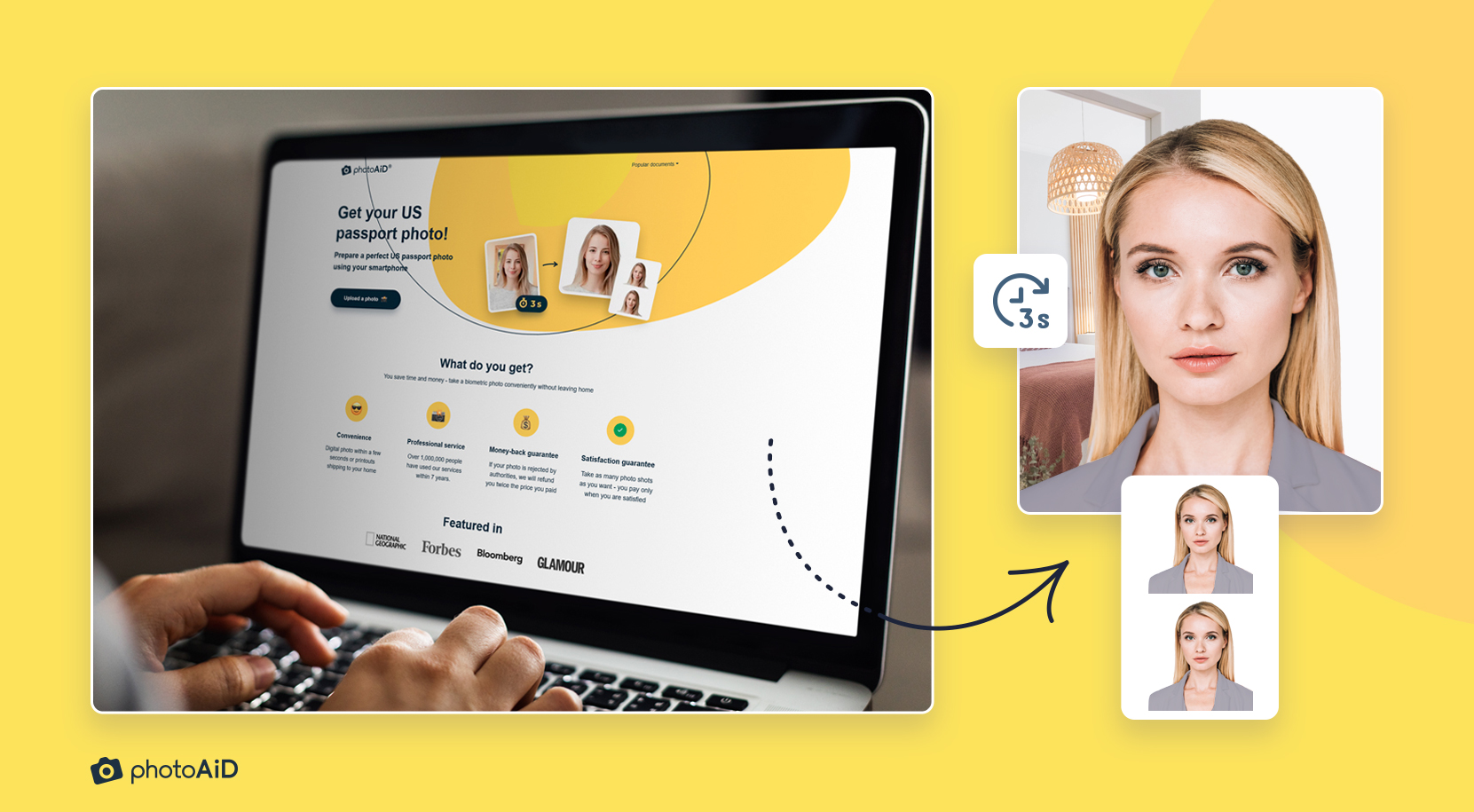 Summary
Can you take passport photos with an iPhone? Yes, you can.
There's no need to add to the more than 50 hours Americans spend in traffic yearly—skip the trip to the photo booth or studio! Pick the most convenient one depending on your expectations.
To recap, here's how to take a passport-size photo with your iPhone:
Find the right spot
Set up your iPhone
Take a photo
Edit the picture
Or make your job easier and create your own US passport photo with an iPhone using PhotoAiD®.