Taking a passport photo at home is both possible and convenient.
In fact, you can create a completely compliant DIY passport photo in just 3 minutes.
How?
Follow these four steps and save your time, money, and avoid stress. Click on the section you're interested in, or scroll down to read it from the beginning.
Step 1: Find the location and get your camera
Step 2: Take your own passport photo
Step 3: Crop the image and adjust the background
Step 4: Download and/or print your DIY passport photo
Do you want to turn an image taken at home into a valid passport photograph? With PhotoAiD's mobile photo booth, you can! Keep reading to learn how to take a passport photo at home in 3 minutes.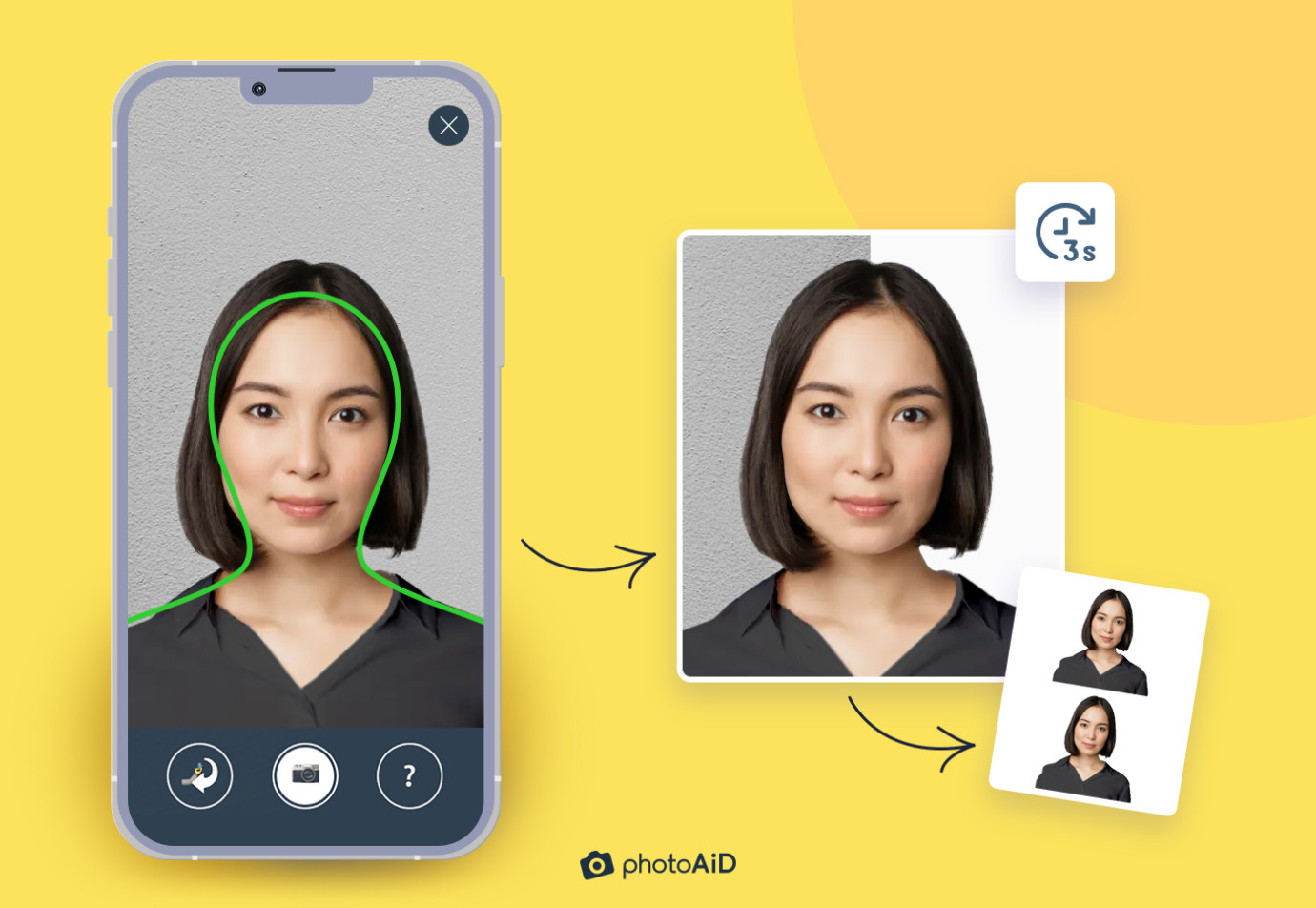 Not what you're looking for? These related articles might help you:
First off, let's address the elephant in the room—
We understand your concerns—a rejected application due to photo issues isn't your dream scenario, is it?
Trust us, professional-quality results are achievable at home.
All you need is the right tool (spoiler alert: you already have it) and a clear image of what good passport photos should look like according to the official passport photo requirements.
So, here's the picture you want to end up with: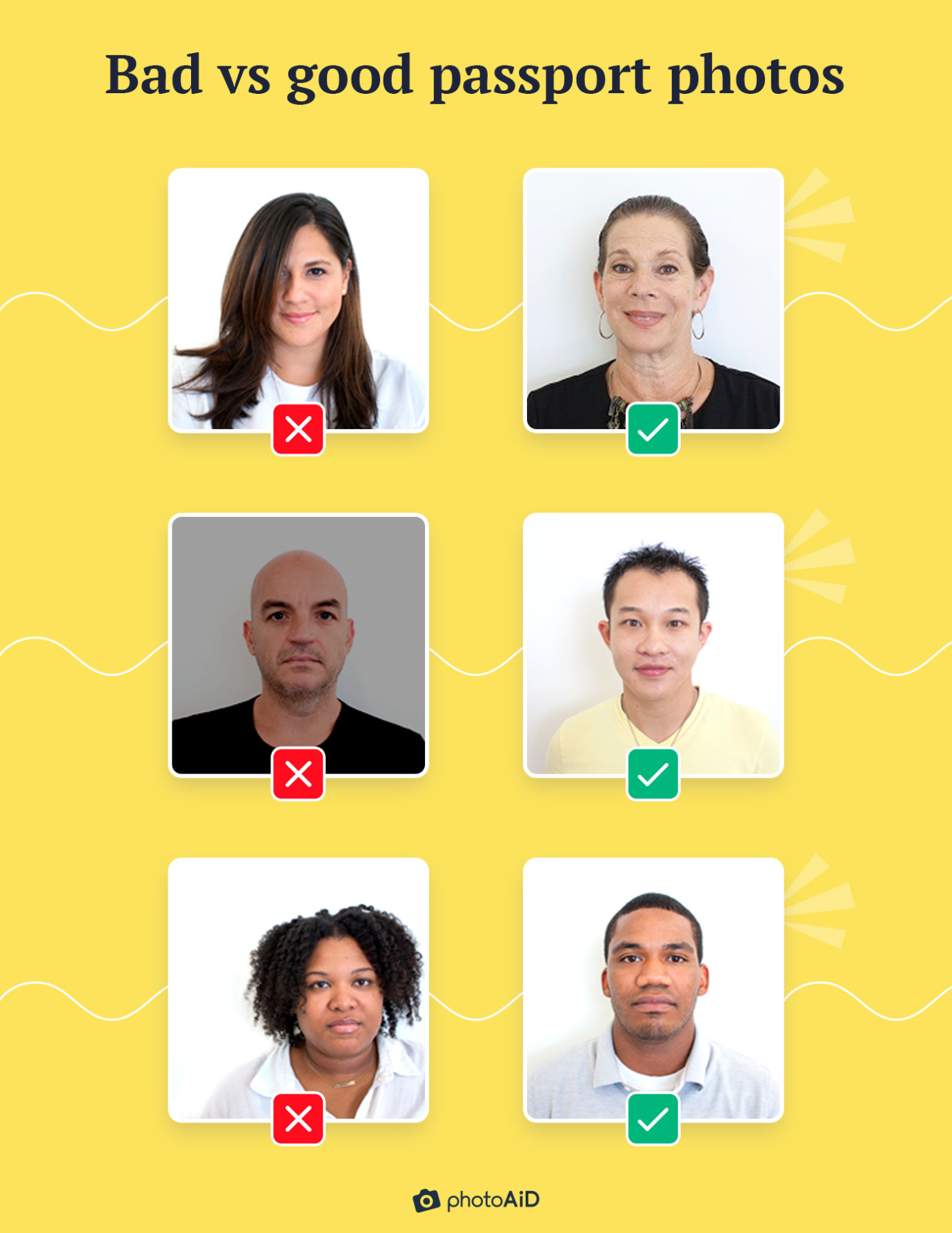 | Requirement | Details |
| --- | --- |
| Size | 2×2 inches (about 51×51 mm). |
| Background | Plain white or off-white. |
| Head dimensions | 1-1⅜ inches (22-33 mm) from the bottom of your chin to the top of the head; the entire head should take up 50-70% of the photo. |
| Editing | Not allowed; no blemish removal, saturation, or contrast changes. |
| Photo format | JPEG for online applications; matte or glossy photo quality paper for traditional applications. |
Note that failing to follow these technical specifications is often the main reason why the authorities reject a passport application.
You can read about common mistakes and what happens if your passport photo is rejected.
Now, let's move to the first step.
Step 1: Get your camera, open the right app, find a good spot
First of all—
No, you don't need to set up a professional photo studio in your living room.
You don't even need to buy a professional camera!
All you need to take passport photos at home is:
A high-quality camera (like the one in your smartphone or most digital cameras)
A reliable passport photo tool
The right settings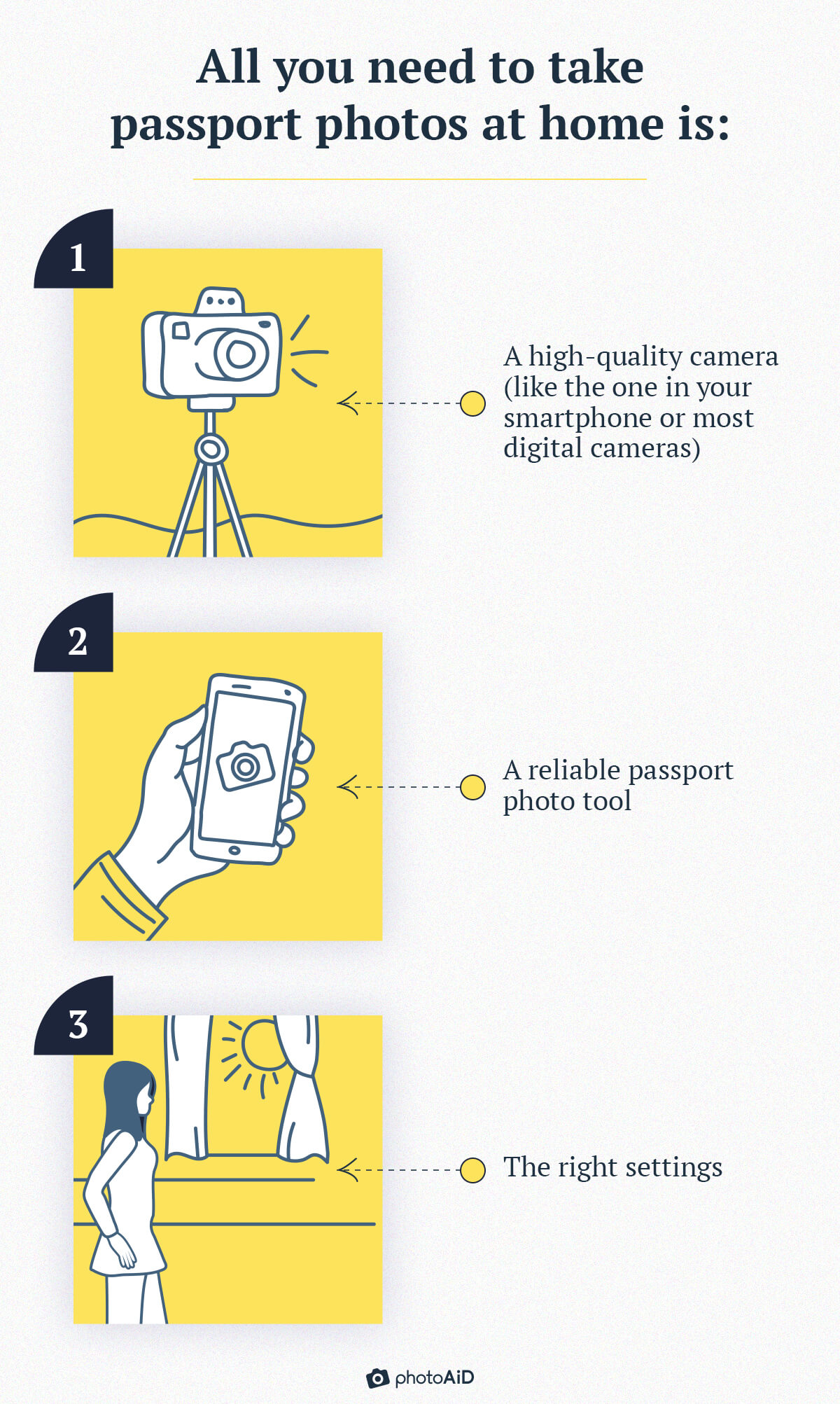 Make sure your camera is good enough to take DIY passport photos
The quality of your photo is key, as any image with imperfections (grainy, over or undersaturated) will likely get your photo rejected.
The good news is, you can take a professional passport photo with any smartphone that's less than five years old. Simply follow our photo-taking tips, and you're in the clear.
Pick the right software for taking passport photos at home
The market is full of apps that can do the job, but for this tutorial, we'll show you how to easily do it on your phone with PhotoAiD® (also available as a passport photo online tool).
If you're interested in checking out other apps and tools, read our reviews of free passport photo apps.
But… why use a passport photo app rather than the stock camera app?
A dedicated passport photo app, such as PhotoAiD®, will help you:
Take a compliant US passport photo (in some cases with a 100% compliance guarantee)
Order 2×2 photo prints or print them yourself with a digital template we'll send
Get a 200% refund in case your photo gets rejected
The process will take you just 3 minutes—and here's our biometric photo booth in action!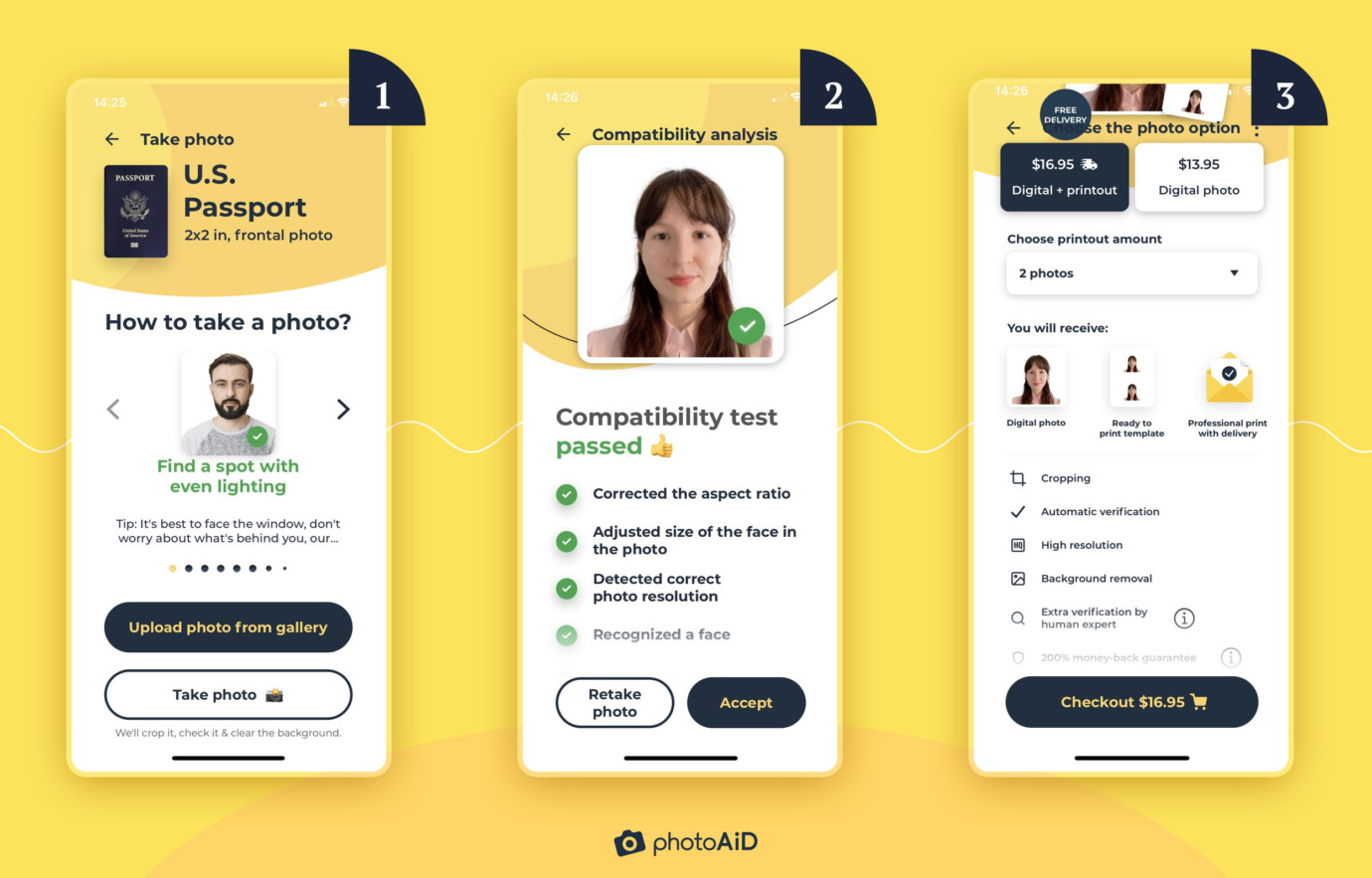 The reality is that people more often than not are choosing to use an app or a service that's not an actual photographer. I believe that the client is the most important, and if the quality they get from such services lives up to their expectations and the photo serves the purpose it's supposed to serve, there's absolutely no problem for me to see people choose an app over going to a walk-in studio to get a passport photo taken.

Matt Licari, professional photographer
Ensure good setting & lighting conditions for home-made passport photos
Where should you take your own passport photo?
Any place will do if you follow these simple rules:
| Settings | Tips |
| --- | --- |
| Lighting | Take a photo in good lighting without shadows, glare, or reflections. Two-light setup is optional. Natural light is also suitable. |
| Background | Choose a suitable background, such as an off-white wall, to meet official passport photo requirements. |
| Camera | If taking a photo yourself, use a selfie camera with sufficient quality. Set the camera timer and position yourself around 1.3 feet away from the camera. Place the phone on a steady surface to avoid blurred and shaky images. For a digital camera, use a tripod. |
Seems like too much work?
Leave it to us! PhotoAiD® will automatically remove the background to meet the passport photo requirements and check your photo's quality.
We'll let you know if anything is wrong, and you can repeat the shot (at no additional cost).
Step 2: Take your own passport photo
Once your setup is ready, it's time to snap your passport-quality photo.
Open your phone camera and sit or stand straight, with your arms relaxed. Make sure to face the camera directly.
If you use our dedicated camera app, the guiding lines will help you do it right.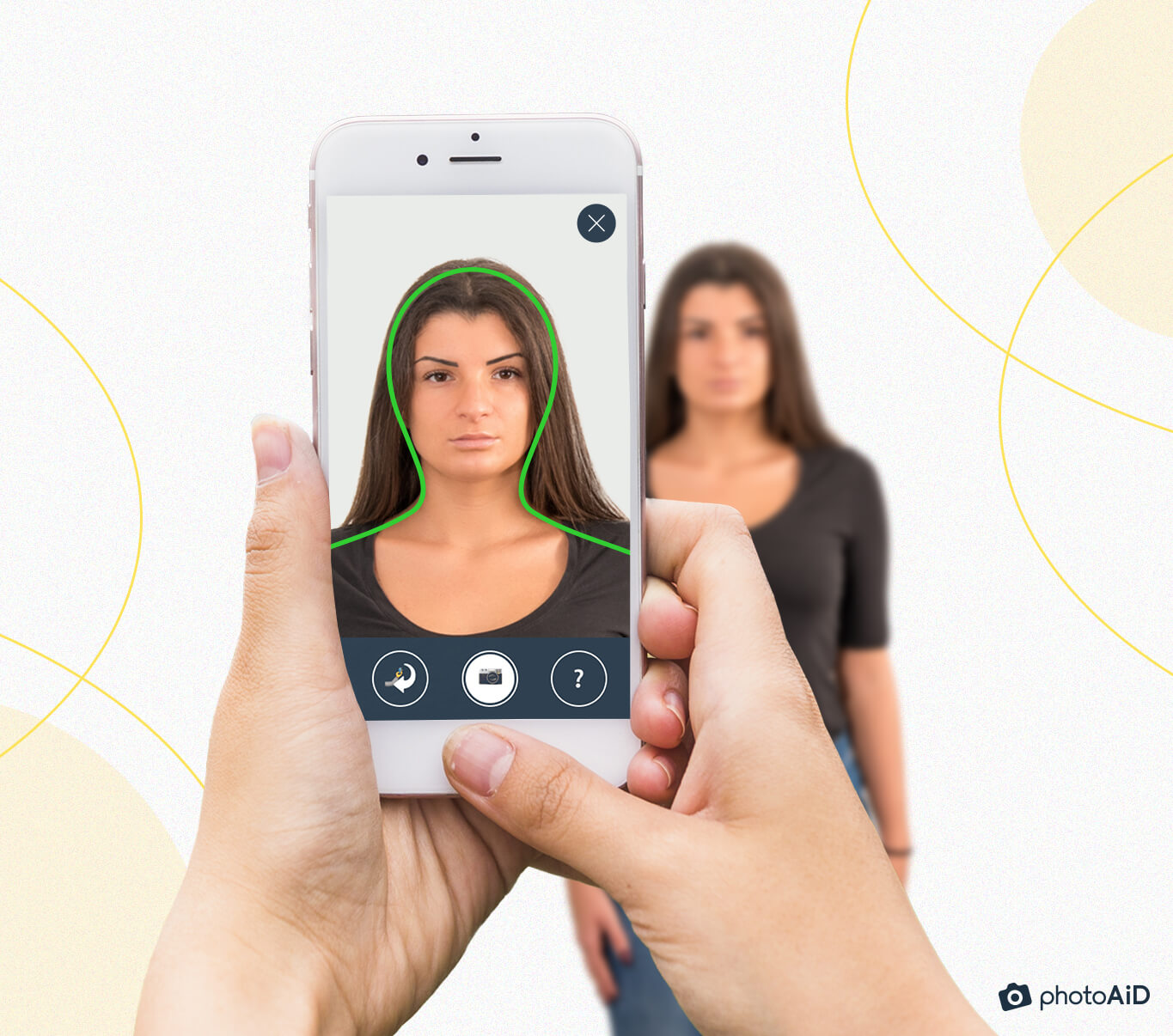 Remember to keep a neutral facial expression (you can't smile or frown), with your eyes open and mouth closed.
Additional guidelines to keep in mind:
Head covering, hair & accessories. Any head covering (hats or hair accessories) is unacceptable unless you wear them for religious purposes, such as a hijab. You can wear your hair loose if you want to, but make sure your entire face and ears are clearly visible. We recommend you pull your hair away from the face
Glasses. You can't wear glasses unless you need them for medical reasons (in such a case, you'll need a signed doctor's statement). If you have facial piercings, you can keep them as long as they don't obscure your natural look
Attire. You can take your own passport photo in clothes you usually wear. We suggest you avoid light-colored clothes (as they'd blend with the white background) or those revealing your shoulders (e.g., tank tops). Traditional religious attire is also acceptable
Don't worry if you don't take the right shot in one go.
In contrast to traditional walk-in studios, with your phone you can take as many shots as you like!
When you get the image you're happy with, see if it looks anything like this example of a photo that meets all US passport requirements: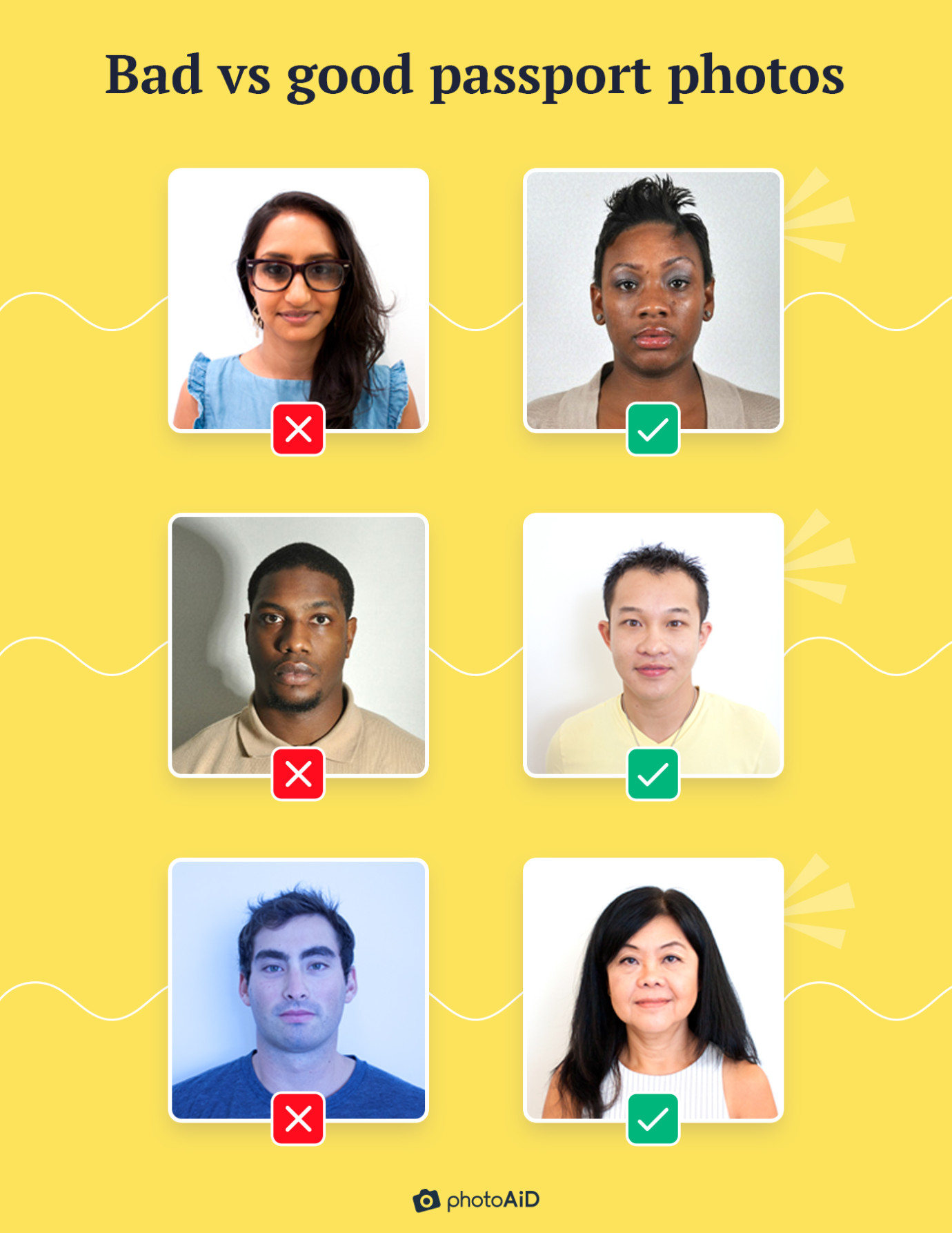 Alternatively, scroll through these passport photo examples covering specific guidelines (attire, hair, or dress code).
Step 3: Crop the image and adjust the background if necessary
Now it's time to convert your shot into a picture compliant with the state's passport photo rules.
To finish off the process, you'll need to crop your image and adjust the background.
You can do it with handy tools like this free background remover and AI image cropper.
When you're done, remember to evaluate the image with the official government passport photo checker.
Keep in mind that if you do all the adjustments yourself there's a risk of your photo getting rejected as no human expert or automated technology verifies your photo along the way.
If you use the PhotoAiD® photo booth app, the process is fully automatic and ensures 100% compliance.
How does this work?
Our AI will check your uploaded photo, convert it to the correct size, crop it, and adjust the background.
Plus—
Once you accept the previewed photo, our biometric photo experts will double-check it to ensure it complies with the US passport photo requirements.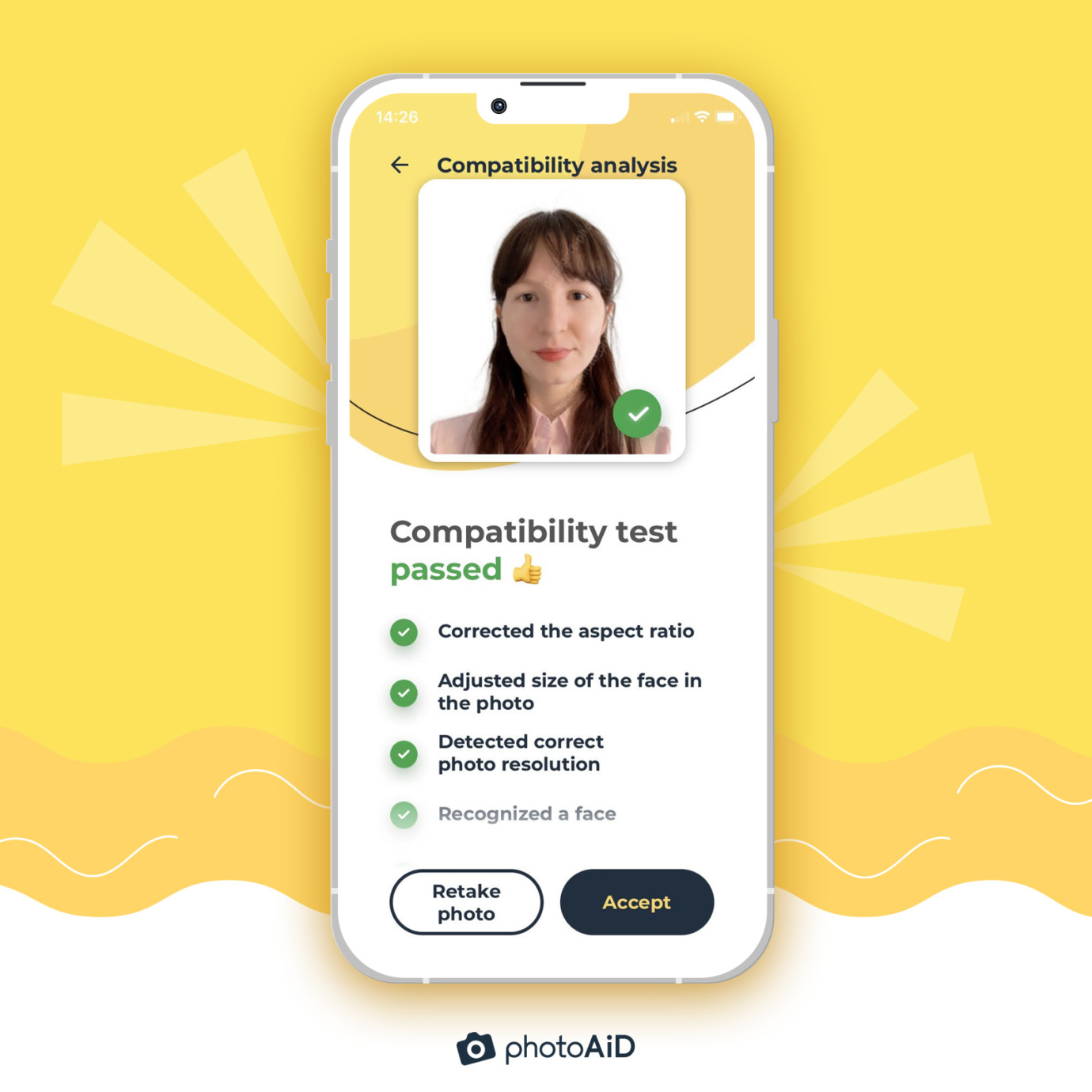 Step 4: Download your digital passport photo or order prints
You'll get your digital passport photo straight to your inbox, ready for online submission.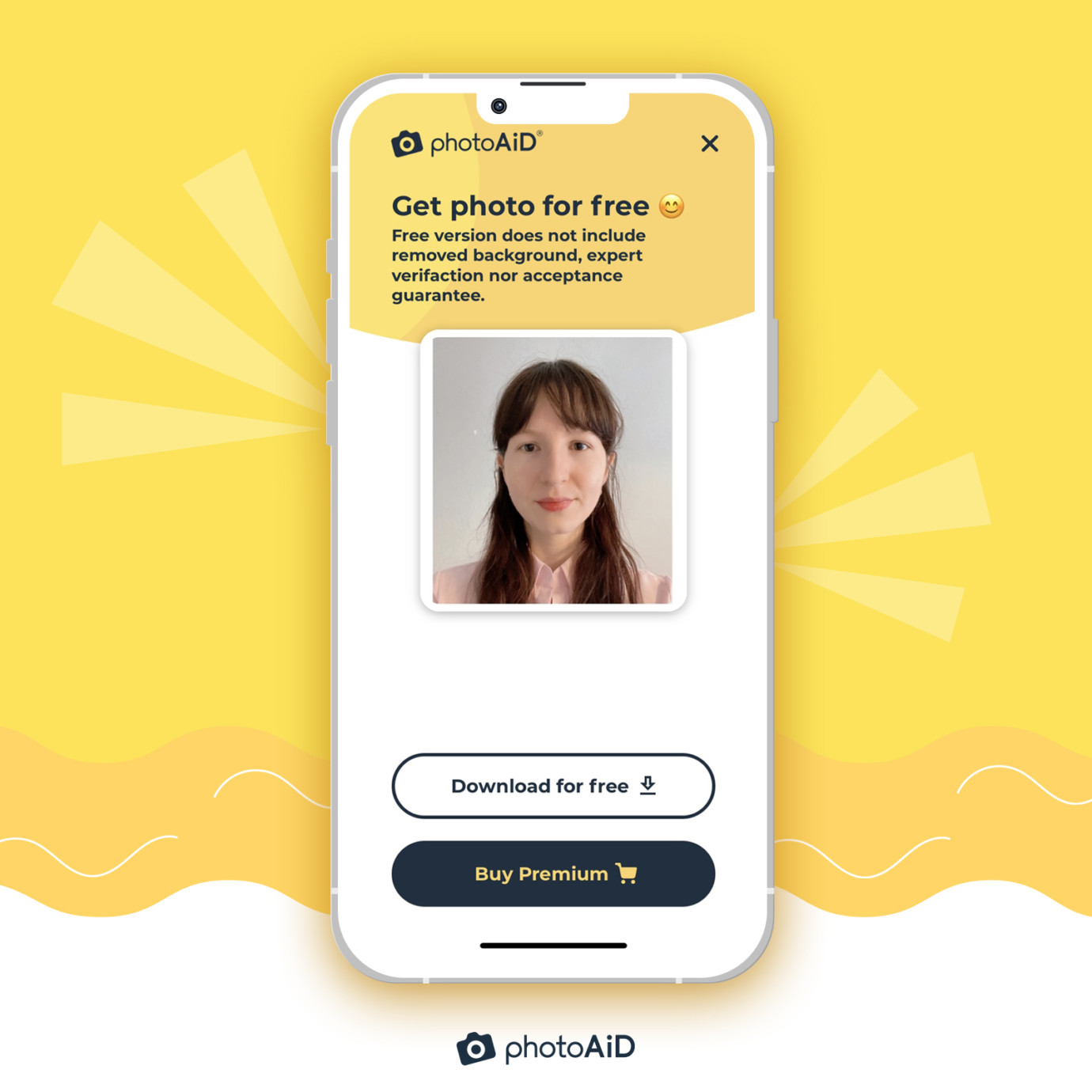 If you want to submit a paper application, you can also order perfect 2×2 photo prints to your home address, or print them yourself.
Many convenience stores across the US offer printing services suitable for biometric photos. Here, you can read about printing passport photos at CVS.
Bonus: Taking baby passport photos at home
If you need to take a picture for your baby's passport, doing so at a photo studio or a photo booth may be even more troublesome.
In the first six months of life, infants show stress responses even to minor everyday situations, let alone when exposing them to strangers.
Why not take your baby's passport photo at home and spare them from anxiety?
When doing it at home with our handy app, you can take the photo stress-free. Take as many photos as you need. No rush.
All you need to do is place your baby on a white or off-white blanket on the floor and snap the photo from above. You can also ask a family member to hold the baby's head gently.
Note that some requirements for babies differ from those for adults. Check our article on baby passport photos where we cover all you need to know about taking passport pictures for your little ones.
Final thoughts
Last year, an average US citizen spent over 50 hours sitting in traffic. Why add to it by traveling to take your passport photographs if you can do it yourself?
Now you know how to take your new passport photo at home in four simple steps:
Prepare a good camera, the settings, and a reliable photo tool
Take your own passport photo
Upload the image to turn it into a US passport photo
Print the pictures or use the digital image in an online application.
Follow the US passport photo specifications and our professional tips to take passport photos at home and download PhotoAiD® (available on iOS and Android) to complete the process. With our compliance guarantee and refunds, you can sleep safe and sound, knowing your application will go smoothly.
Ready to take your passport photo at home? Jump straight to our user-friendly online tool! Upload a digital photo you want in your travel document, and we'll transform it into your best US passport photo yet.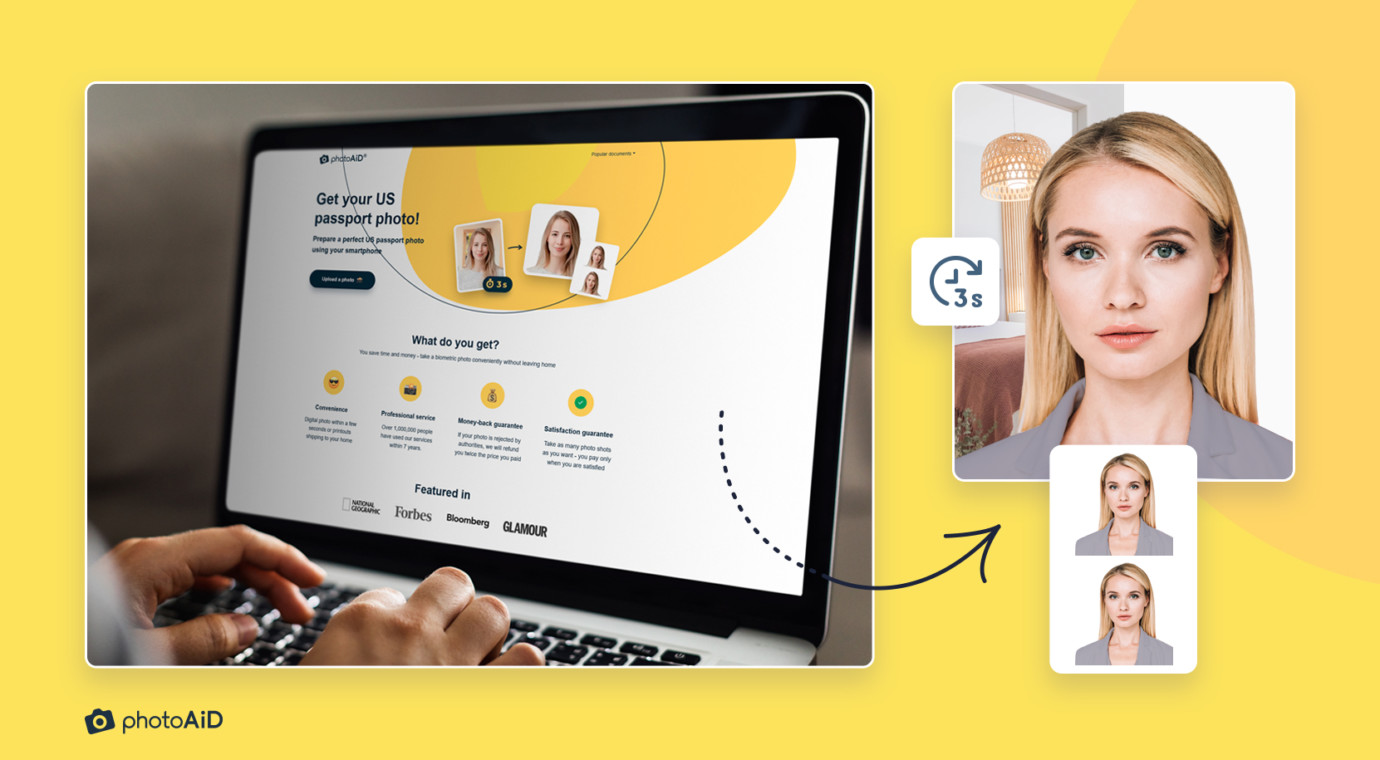 FAQs—How to take a passport photo at home
Need more info on taking passport photos at home? Check these FAQs.
Can I take my own passport photo and print it at Walgreens?
Yes! Together with a digital photo, we'll also send you a printable 4×6 US passport photo-size template. You can print the template using Walgreens passport photo services—and enjoy your professional and cheap passport pictures!
How to take passport photos at home with an iPhone?
The best way to take a US passport photo at home with your mobile phone is by using a dedicated passport photo app like PhotoAiD®. This way, you'll have your compliant biometric photograph ready in three minutes. For a step-by-step guide on taking passport photos with an iPhone, check this article.