U.S. citizens who frequently travel internationally know how important it is to provide a valid travel document. Unless you're some kind of secret agent, this document is going to be your passport.
Passports are easy enough to get: you fill out the application, collect your supporting documents and photocopies, and submit all the paperwork to the passport agency along with the appropriate fees. And then you wait.
But—
If you make a mistake in your paperwork, things can be slowed down by 90 (ninety) days—or maybe even longer—in addition to 2-3 months of regular processing time.
Keep reading to discover the most common reasons for American passport rejection, how to avoid them, and how to recover if you do make an error.
Top 5 passport denial reasons
To avoid the risk of getting your application rejected, think about applying for a passport ASAP. You should even consider paying the extra $60 for expedited service, which will mean getting a new passport in only 5 (five) to 7 (seven) weeks instead of the usual 8 (eight) to 11 (eleven) weeks.
And now, here are the top 5 reasons for passport denial, beginning with the most common mistake.
Reason #1: Unacceptable passport photographs
A passport photograph is not just any photograph; it is a biometric photo, clearly showing the details of your face. The picture must meet the official U.S. passport photo specifications, which means it must be a certain size, shape, and format.
Needless to say, if your eyes are closed or if your face is covered in any way—such as if you are wearing a hat or eyeglasses—then your photograph will be deemed unacceptable.
The solution: Get professional help! Use the passport photo services available in drugstores, office supply stores, retailers, and many if not most U.S. post offices.Or you can use an online photo editor such as PhotoAiD® to have your picture edited to the American passport photo standards. We'll get into more detail further down in this article. 
But now, keep reading and we'll move on to the second most common reason!
Reason #2: Missing information
Applicants must provide proof of identity, usually in the form of a government-issued photo ID, such as:
Driver's license
State ID card, or
Military ID
Moreover, proof of citizenship (e.g., a birth certificate or Naturalization Certificate) is required while applying for a passport. In the case of a name change, evidence of the name change plus relevant supporting documents, such as a divorce decree, marriage certificate or death certificate, will be necessary.
When documentation is missing, the U.S. passport application is put on HOLD and applicants will have 90 (ninety) days to complete the information. If anything is left blank on your application, it will not be accepted by the passport agency or the U.S. State Department.
The solution: Complete application Form DS-11 carefully and double-check your work. If you do not have one of the required forms of identification, contact the U.S. Department of State and they will provide a list of acceptable alternative forms of identification U.S. citizens can use. 
If you no longer have your original birth certificate, get an "original certified copy" by contacting the secretary of state of the state you were born in. Getting all this information right the first time will save you time and trouble.
Reason #3: Illegible photocopies
U.S. citizens must submit high-quality photocopies of all supporting documents. A passport acceptance office (post office or county clerk's office, for example) will inspect the originals and give them back to you, but the photocopies are theirs to keep. The copies get forwarded to the Department of State with the rest of your application.
Note: while renewing an existing passport, you must provide a color photocopy of the old or expired passport, but the current passport itself will also be sent to the State Department for cancellation. It will be given back to you when you get your new passport.
Please show up at the passport acceptance office with your photocopies already made. Do not plan on making copies in the post office—this will only lead to grief. And if your birth certificate says "DO NOT COPY," just ignore it: you're allowed to photocopy your own birth certificate, especially for federal passport purposes.
The solution: Photocopies cannot be double-sided. Changing the size of the image is not permitted. They must be copied onto standard 8 1/2 x 11-inch white paper. You cannot use scissors, tape, staples or glue in any way. The copies must be readable and clear, without streaks, smudges or damage from the copy machine. Do not crease, spindle or mutilate.
Reason #4: Incorrect payment
The fee for either a brand-new passport or for a renewal is $130. It must be paid in the form of a check: a personal check, a cashier's check, or a money order, and it must be for exactly the right amount.
Using extra passport services will add up to the amount:
If you need expedited service, that'll cost you another $60, so your check should be for $190.
If you need rush delivery, that's another $18.32, making the full amount $208.32 exactly.
Getting the amount wrong will result in the Department of State not cashing the check—your application will be put on HOLD until you correct the mistake, which eats up valuable time.
NOTE: Checks must be made out to the "U.S. Department of State." Use those exact words. Do not make the mistake of writing "U.S. State Department." Do not abbreviate it as "Dept. of State," either. Be precise.
The passport acceptance office then mails your completed application, along with your check for the exact amount, to the U.S. Department of State. The passport acceptance office charges an additional $35 execution fee that is paid separately. The acceptance office probably accepts cash, credit cards and debit cards in addition to checks. And remember you also need to pay the postage for mailing the application.
Reason #5: Law and legal reasons
Finally, a U.S. passport application could be turned down for a few legal reasons:
Owing child support
Missed payments on a loan from the U.S. Department of State
Failing to pay taxes or debts
Felony conviction
Court orders
As we have revised most of the possible reasons why your passport application may get rejected, now the question is: what next?
What happens if my passport application is rejected?
Passport application denial does not end your journey to obtaining a U.S. passport. However, to resume or continue the process, applicants need to take a few steps.
After receiving the rejection letter, the first thing is to focus on the reason. Usually, with minor errors, such as spelling mistakes, missing information, or rejected passport photos, applicants have up to 90 (ninety) days to provide corrections. In this case, the process is not interrupted, just put on hold.
However, the U.S. Department of State will address respective institutions if the reasons include legal matters. The passport application process can be resumed only after the legal cases are cleared out.
To address the errors, applicants must file an appeal to the Regional Passport Officer. It is also possible to file a grievance if you disagree with the reason for rejection. In case of any questions, it is best to contact RPO directly.
PhotoAiD® solves the passport picture problem
Eliminate the most common problem with passport applications by using PhotoAiD® to get perfect passport pictures. Snap passport photos yourself at home, comfortably and privately.
The procedure is quick and simple—
You upload a photo into the PhotoAiD® tool, and it automatically verifies if the image meets official U.S. passport photo specifications. 
Submit as many pictures as needed to get the perfect one. The app automatically adjusts the size and position, and does everything else needed to make a compliant photograph.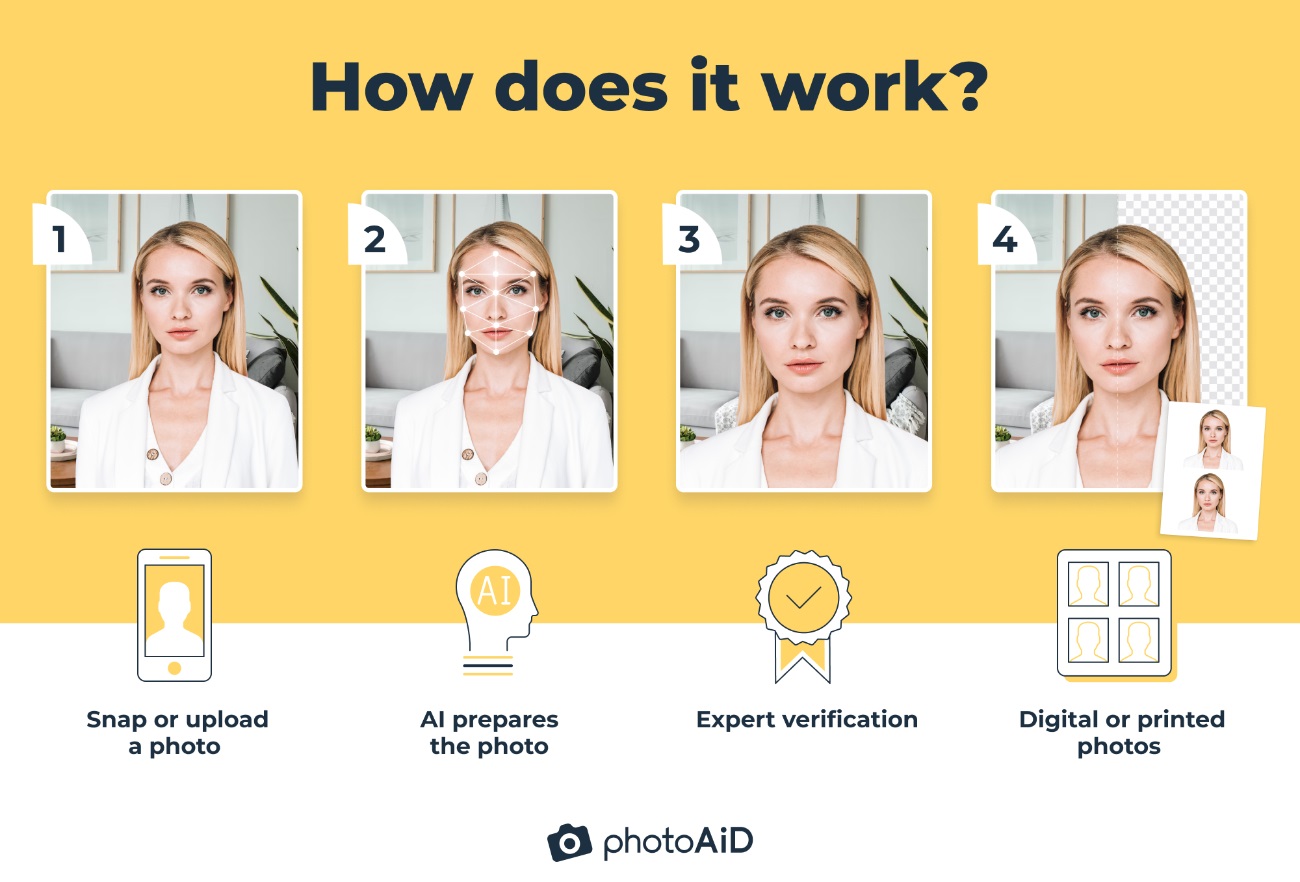 PhotoAiD® converts the image into a JPEG file, which is emailed to you within a few seconds. You download a ready-to-print digital photo, which can be printed for 39 cents (or less) at your local pharmacy or copy shop.
If you don't feel like leaving the house, PhotoAiD® can print the pictures for you and mail them to your home within a few days.
Plus, PhotoAiD® gives you a 100% guarantee of acceptance: if your passport photograph is not accepted by the authorities for any reason, PhotoAiD® will refund you double your money back!
FAQ
Still wondering about some passport denial issues? Take a look at the most frequently asked questions in the case of a rejected passport application.
Can a U.S. passport application be rejected?
Yes, passport applications can be rejected in the case of missing documents, incorrect information, or badly-taken passport photos.
How will I know if my passport is denied?
If there happens to be any reason causing the passport application denial, a U.S. citizen will be notified by a letter with explanation and 90 (ninety) days to correct the error.
If my passport application is rejected, do I have to pay again?
Maybe! You will have a deadline of 90 (ninety) days to fix the problem without needing to pay again. If you miss the deadline, your application is canceled completely without getting a refund. If you elect to re-apply later on, you will need to submit an all-new payment.
Can I re-apply if my passport application gets rejected?
If it's something you can change (like replacing U.S. passport photograph or supplying additional information and documentation, or paying off your child support), then yes—you have 90 (ninety) days to make the changes. If it's something that cannot be changed within 90 (ninety) days (like legal judgments), you can't apply again until the underlying issue is resolved.
Why does my passport photo keep getting rejected?
If a passport photo does not meet very strict standards, it will be rejected. For best results, use PhotoAiD®.
Is there a passport denial list?
There is a Passport Denial Program, and it's run by the Child Support Services Division (CSSD), part of the Federal Collections and Enforcement Program. If a U.S. citizen owes $2,500 or more in child support, you get put on this list.
How can you find out if you are on the passport denial list?
The CSSD lets you know they are putting you on the passport denial list by sending you a letter in the mail. The letter explains how much you owe, and you get off the list by paying off the full amount—you cannot just pay it down to under $2,500. You can contact the CSSD Customer Service Unit by calling (202) 442-9900.
Why would someone be denied an American passport?
The most common reason is owing over $2,500 in child support; this gets you on the CSSD denial list. The other reasons include:
– overdue or unpaid federal loan; 
– a court order prohibiting you from travel; 
– being on bond or bail awaiting trial; 
– having been convicted of certain felonies related to the international trafficking of drugs.
Summary
The presented 5 reasons are not the only things that can cause your passport application to be denied or delayed, but they are the most common. It's critical that applicants meet all the specified standards, especially when capturing the photograph for your U.S. passport.
Use a reliable online photo app such as PhotoAiD®, and you can be confident that your passport photos will be accepted by the authorities.