Is it possible to take a guaranteed-for-acceptance passport photo from your smartphone?
Although it may seem unlikely that homemade photographs can be approved by the authorities, it is possible to prepare a passport-size photo by yourself using your smartphone. There are ways to make your passport photographs fit the official standards using your mobile phone.
Discover the best tips on how to take your U.S. passport picture from your home, workplace, or even a park, using only your smartphone.
Edit your passport photo
If you prefer to take a passport photo by yourself, make sure your passport image meets all the specifications such as size, pose, or background color.
The authorities have the right to reject your passport application if the passport photo doesn't meet the official requirements.
When completing your passport application applicants can't edit their photograph in any way. We recommend you use specialized online photo converters for passport pictures, which are readily available on the Internet.
When choosing your online converter, pay attention to applications that:
ensure a 100% acceptance rate of your passport photograph;
have the feature to remove the background;
format the picture according to the correct size and requirements for passport photos.
How to digitally modify a photograph to passport photo criteria
Digital passport photo app for iOS or Android can assist users in the process of taking a passport photo.
The passport picture should represent your current look to prevent identification problems at passport centers or border checks. According to the Department of State, applicants must include a new photo, no older than 6 (six) months on the passport form.
A passport photo should also meet additional criteria, such as:
Avoid using filters. If you retouch the photo yourself, make sure to keep crucial parts of your face visible, for example – wrinkles, scars, birthmarks, or scratches.
Take your picture with optimal lighting–natural light is perfect since it gives an even contrast where necessary, avoiding shades on the head and background.
Flash and "red eyes" are not permitted.
Keep your back and shoulders straight.
Look directly at the camera.
Keep a neutral and calm face, grinning is forbidden.
Do not wear uniforms, only casual clothing.
Unless you have a medical reason, sunglasses or non-prescribed glasses with colored lenses are not appropriate.
Religious or medically related items, such as eyeglasses, hearing aids, or headgear must have a declaration to that extent.
Interested in finding out more about the appropriate clothes for a passport photo?
You can use a digital passport photo application to alter a photograph from your smartphone and adjust it to the needed criteria. There is a wide variety of such apps; some work mostly automatically with minimal user input, others require a skilled hand to be used properly.
Upload the photo to the program and the software takes it from there, converting your ordinary photo into a passport photograph. In the following sections, we explain the process in more detail.
The advantages of taking a passport photo from mobile
Taking passport photos often comes with long lines, wait times, and some degree of uncertainty about the requirements—but it doesn't need to be this way.
There are significant benefits to resizing passport photographs online such as:
No need to go anywhere! You can stay at home and take your passport photo from your favorite spot, whether it is a couch or the wall with your favorite poster.
You don't have to waste your time because the process of creating a photo takes only one minute. If you're in a hurry or the weather is miserable, there's no need to run to the nearest photo studio and be nervous about how the photo turned out.
It's much easier to take a photo of your child as they would be more comfortable lying in bed on their favorite blanket and looking at their parents, rather than in an unknown place, looking at a stranger.
The editing tool will replace the background and change it to the required one.
Quite a few digital platforms provide shipping services. If you don't want to leave the house, your U.S. passport photo will be delivered straight to your door.
How to take a passport photo from mobile with PhotoAiD®
PhotoAiD®–rated 4.5 on Google and 4.2 on the App Store–is compatible with both iOS and Android. Users can download it and get right down to business.
The procedure is straightforward and includes the following 7 steps:
Step#1: Visit PhotoAiD®'s homepage, or install the application compatible with iOS and Android.
Step#2: Dress casually, and avoid wearing clothes with too bright colors or any kind of uniform.
Step#3: Use good lighting–natural light is perfect since it gives an even contrast, avoiding shadows on the head and in the background.
Step#4: Ask someone to photograph you, preferably from 3 to 6 feet away (1 to 2 meters), and then upload the photos to PhotoAiD®.
Step#5: Wait until the platform verifies that the U.S. passport photo meets the requirements. The application works perfectly because the AI system automatically scans photos for any inconsistencies with the official requirements.
Step#6: The app will notify you if your photo meets all the official specifications in under 3 minutes. You can snap a new shot to ensure everything's perfect.
Step#7: Once the AI system and a human expert have checked your image, it will be available for download in electronic formats. Applicants can either save, print, or upload the photo to their passport application online. We also offer the delivery of printed photos for an additional three dollars.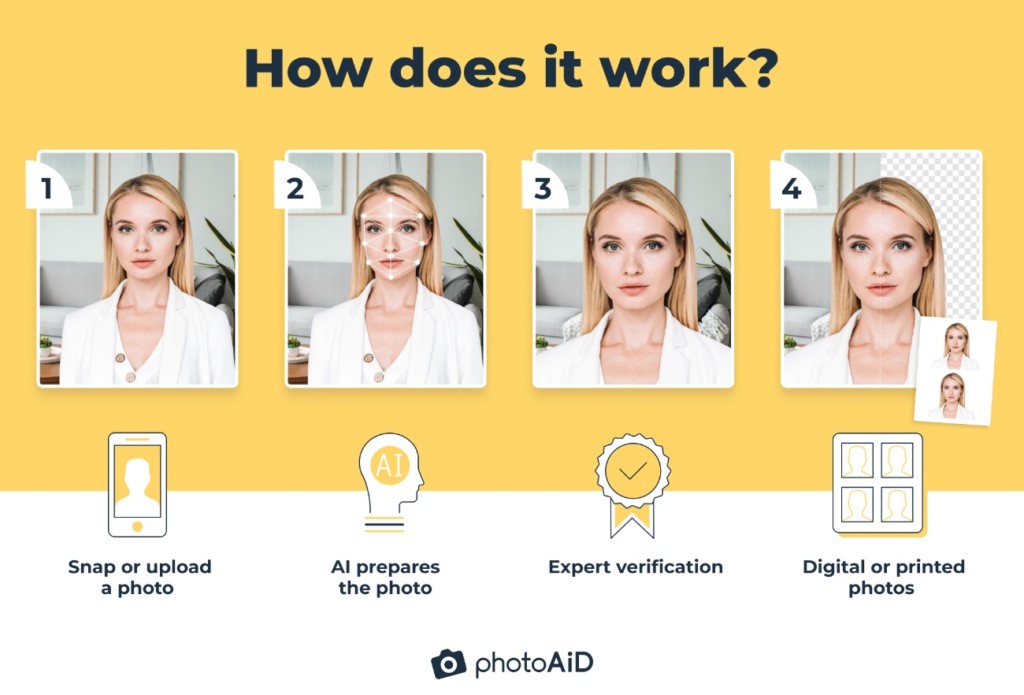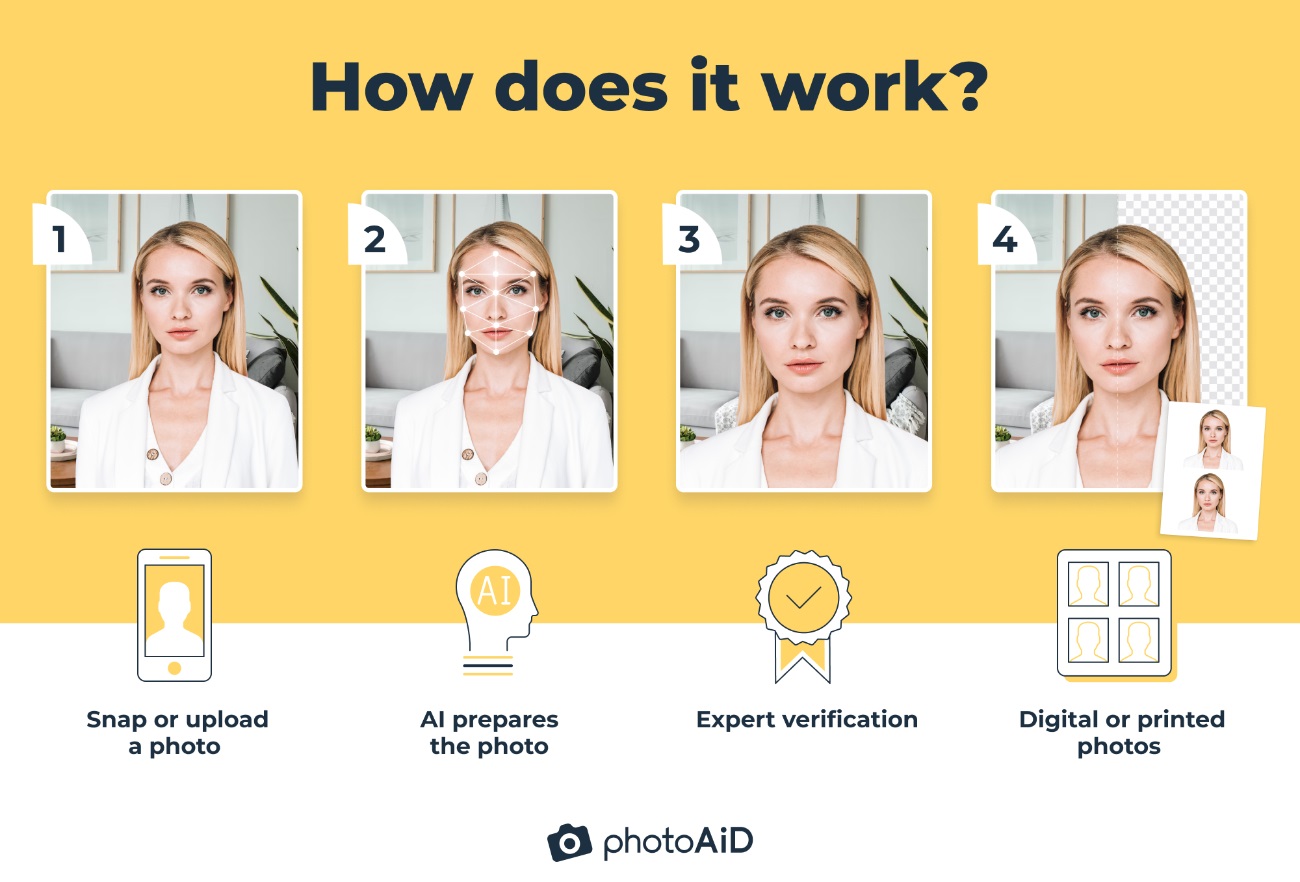 PhotoAiD® guarantees that the photo will be approved by the authorities. Otherwise, we will repay you 200% of the amount you spent on your U.S. passport photographs.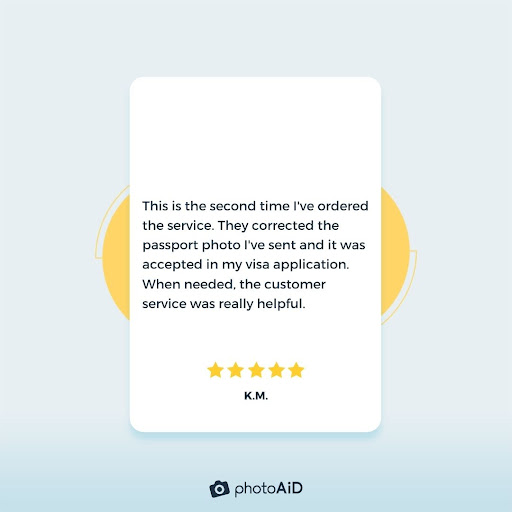 Available photo formats
With PhotoAiD®, you cannot only take your U.S. passport photo, but you'll also be able to take a photo for several dozen documents, whether it's a baby passport photo, DV lottery photo, identification card, or a U.S. visa photo. You can take an official photo globally, not just for the U.S.
A passport-size photo from mobile—FAQ
In this section, we'll address a few questions on how to make a passport-size photo on mobile.
How can you take a passport photo of yourself with your mobile?
You may get an excellent image for your American passport application or other purposes by using a high-quality passport photo editor. We strongly advise you to check out PhotoAiD®.
Can I take a passport photo at home?
Yes, the authorities allow applicants to take their own passport photos. However to meet the standards, applicants will need to use editing tools. With PhotoAiD®, users can get flawless passport pictures from anywhere.
Can you edit passport photos?
Not completely. Applicants can retouch size and format, facial features need to be untouched.
Can I take my passport photo online and have it delivered to my home?
Absolutely! PhotoAiD® can help you take pictures and deliver them to your door.
What is the top online passport photo converter?
When choosing the best passport photo converter, we suggest you test and compare the different apps' features. If you want a high-quality service that can ensure your passport photo gets accepted by the authorities, PhotoAiD® is the place to go.
Can we take a passport-size photo on mobile?
Yes, applicants are allowed to take their own passport photos. However, it will be necessary to fine-tune them with a photo editing tool. With PhotoAiD®, customers can have pictures resized and checked for compliance with the requirements from home.
How to take a passport-size photo with a Samsung phone camera?
Users can use a standard 1x or 2x mode to take a photo and then adjust it with a passport photo editor. PhotoAiD® has been used by over a million users.
How to change the background of a passport-size photo on mobile?
Upload it to PhotoAiD®; the background removal tool of our passport photo app is automatic and you'll immediately get the right color.
How to reduce passport size on a phone?
To reduce the size, you will need to use a free or paid photo editing tool. PhotoAiD® is a dedicated application that guarantees acceptance.
What's the best way to take a passport photo on a phone?
To take the best photo, an applicant needs to meet all criteria we mentioned above. A photo should also be edited next. One of the easiest ways is to use a dedicated application, and PhotoAiD® is one of he best.
Can you take digital passport photos on your phone?
Yes! Taking passport photos with your phone only requires the right passport photo app to adjust it to the requirements for official documents. Use PhotoAiD® to get a digital file anywhere and any time.
How to take a biometric photo at home?
You can take a biometric photo by following our step-by-step guidelines and adjust your photo to U.S. criteria. However, by using PhotoAiD® you will skip most of the steps and will get a perfect photo.
How to click a passport size photo at home with iPhone?
Use a standard mode (1x or 2x), and then use PhotoAiD® to resize a photo to passport size on iPhone anywhere you might be.
How to take a 2×2 photo with an iPhone?
Take a picture, upload it to PhotoAiD®, and select the U.S. passport. We'll get it to 2 x 2 immediately.
How to take a 600×600 photo on Android?
Take it by using the 2x standard mode and then fine-tune your passport photo by using a free or paid passport photo editing software.
How to convert a passport size photo to jpeg in mobile?
There are file format converters online, but they do not come with a compliance check. With PhotoAiD®, users get a 100% guarantee of following the official regulations.
How to take a passport-size photo from mobile—final thoughts
Using online photo converters is an effective way to take a high-quality passport photo. We recommend avoiding using Photoshop and Gimp, as these programs require expertise and it's not so easy to adjust a picture to passport standards without imperfections.
PhotoAiD® will edit your photos to official standards with a 100% guarantee of acceptance by the authorities. All you have to do is take a photo and upload it to a website or app—the rest will be done for you.