Can having your maiden name on a passport be a problem?
In some cases it can.
Not to worry, though!
In this guide, we'll walk you through all the possible complications and show you how to avoid them. Plus, you'll learn how to change the last name on your passport in just a few steps.
Here are the questions we'll tackle:
You'll need a new biometric photo when updating your name in a passport after marriage. The process is as easy as uploading an image to PhotoAiD® and waiting for it to be transformed into a 100% government-compliant passport picture.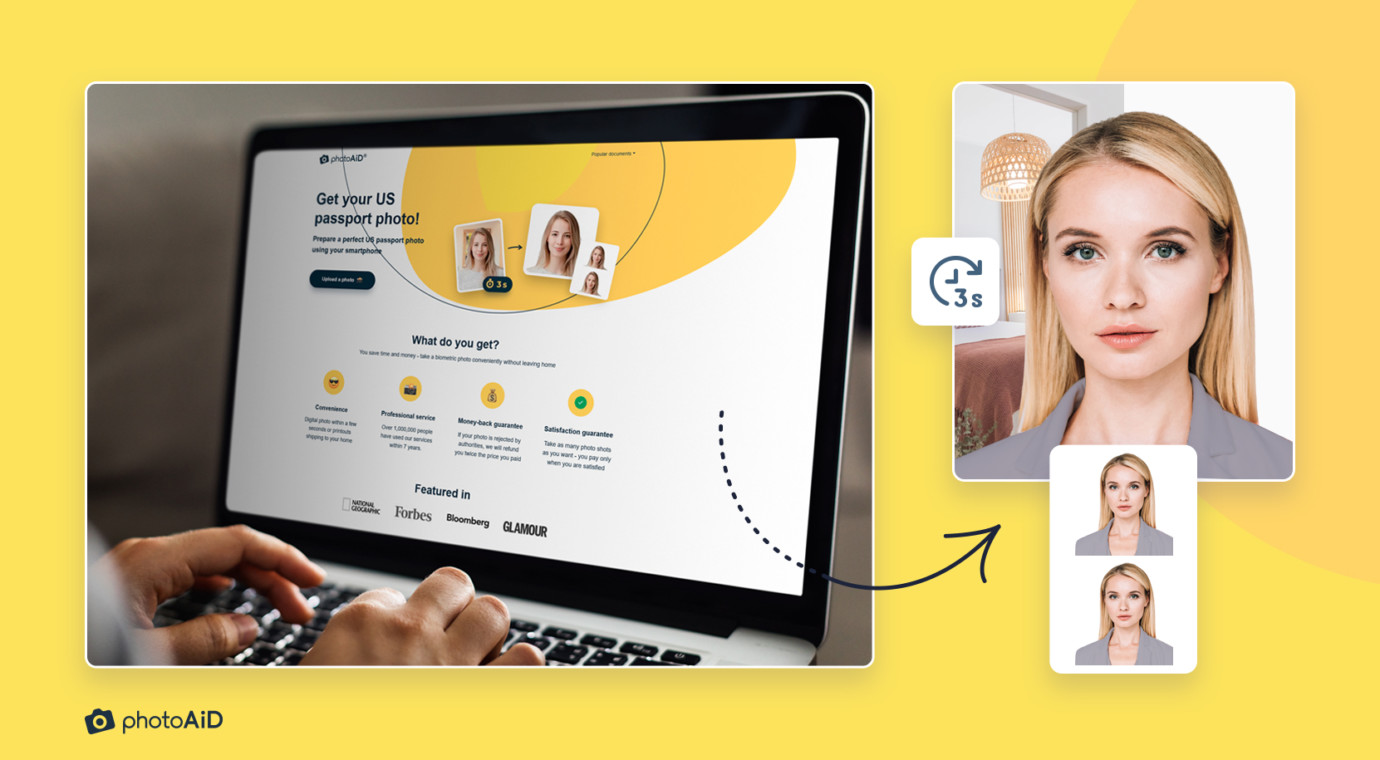 Check some more of our articles about passport applications in the United States:
And now, let's get started!
Keeping your maiden name on a passport
Marital status matters in a passport.
After you get married and change your name, you may have to update your personal information. In fact, as many as 70% of women in the US decide to change their name, and if you're reading this you may be one of them.
Take note:
Your passport can legally display your former name, such as a maiden name or any name before marriage
Marriage doesn't require you to get a new passport with your spouse's surname
You can continue using your passport with your maiden name as ID until it expires
But, consider this:
If you plan to travel, be aware of potential issues with mismatched names on your documents.
Can I travel with my maiden name on my passport?
Yes, you can travel if your passport name matches your ticket. No need for it to match your Social Security or driver's license.
For international travel with an outdated passport, consult the destination's embassy or consulate and carry your marriage certificate.
TSA or airlines won't require it for domestic flights, but it helps avoid issues.
Other considerations
Still unsure about changing your name on your passport after marriage? Consider these tips:
The timing for updating your passport depends on your travel plans. You can change it a week, a year after marriage, or wait until it expires. However, updating your name is recommended for seamless identity verification, particularly for international travel
If your current passport was issued within the last 12 months, you won't have to pay for the name change
If you've already booked a trip with tickets in your maiden name, consider postponing the passport name change until your return
Changing the last name on a passport after marriage
First thing first—
There are three distinct scenarios that determine the process for changing your passport name:
Your last passport was issued LESS than 1 year ago.
Your last passport was issued MORE than 1 year ago.
You can't provide proof of the name change.
Here's a handy table that summarizes the three possible scenarios and includes links to application forms and other relevant information:
| Scenario | Procedure | Price | How to apply | Documentation |
| --- | --- | --- | --- | --- |
| Changing name LESS than 1 year after passport issuance | Renewal | Free (standard service) | By mail | Form DS-5504+ documentation for a renewal + marriage certificate |
| Changing name MORE than 1 year after passport issuance | Renewal | $130.00 | By mail | Form DS-82 + same as above |
| No proof of name change | New passport | $165.00 | In person | Form DS-11 + documentation for a new passport |
NOTE: The last scenario also applies if the current passport:
Is in bad condition (other than usual wear and tear)
Was issued more than 15 years ago or when you were less than 16 years old
Confirm with the relevant embassy if passport name change conditions apply overseas after marriage.
How to renew a passport with your married name: step-by-step guide
After registering your name change with the Social Security Administration, you can start the procedure to apply for a new passport or update the current one.

Here you can find five steps to change your passport's last name after marriage in line with the official US Department of State requirements.
Below are all the details—

1. Complete the passport application form
Download the appropriate form (see table above) and fill in all the required fields accurately by using an online wizard. Alternatively, you can print it and fill it out by hand.
Make sure to write your current legal name on page 1, question 1.
For the travel plans question on page 2, if you haven't bought your tickets yet, leave it blank or write N/A.
For any additional questions while completing the form, refer to the first 4 pages of the PDF or consult these detailed instructions:
2. Gather the required documents
To submit your application, include the following:
Name change evidence (original or certified copy of your marriage certificate)
Valid passport
The PhotoAiD® app is available as a passport photo booth app for iOS or as a passport photo maker app for Android.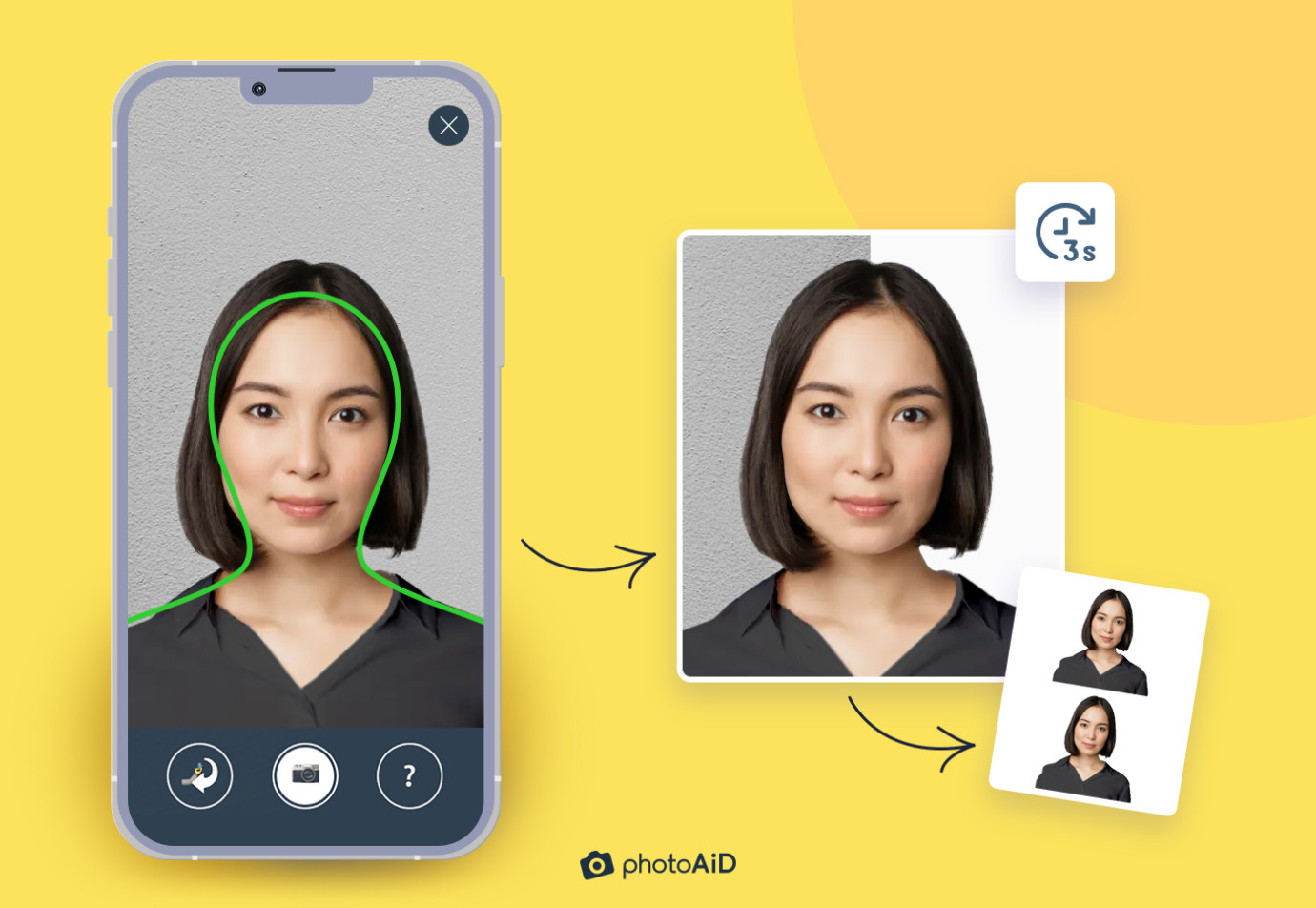 Those who don't have a certificate of marriage to prove the name change, need to bring the following documentation (both original and a photocopy) along with Form DS-11 and the passport picture:
Proof of identity, e.g., driver's license or state-issued ID
Proof of US citizenship, e.g., birth certificate or naturalization certificate
Note: You can only hand in documents in English or certified English translations.
3. Pay the fees
The name change after marriage is free for those who:
Got their current passport issued less than 1 year ago
Hand in the marriage certificate
Otherwise:
$130 (application fee to renew the passport)
$160 (application fee + execution fee to issue a new passport)
You can calculate your passport fee through the Fee Calculator or check this government-issued PDF for more information.
4. Submit your application
Submit your application form (instruction pages are not needed) and supporting documentation by mail to the proper address, which depends on:
The application form you filled out
Your state of residence
Whether you're paying for routine or expedited service
Check your application form —"SECTION E. HOW TO SUBMIT THIS FORM"— to find out the exact address where you need to mail your application.
Suppose you must submit your application to an acceptance facility or passport agency, you'll also be asked to provide your fingerprints and signature.
5. Wait for your passport application to get processed
Current processing times range from 10 to 13 weeks for standard services and from 7 to 9 weeks for expedited services.
You can check the most up-to-date information on processing time here.
To track the status of your application, use the US Passport Application Status tool. All you need to do is provide your tracking number.
Please note that your passport may arrive in a separate shipment from any supporting documents. If you don't find everything in your mail, don't worry. The remaining items should arrive within the next few days.
Key Takeaway
While updating your passport name isn't mandatory, it's highly recommended to streamline your identification during international travels and avoid potential setbacks. Keep the following points in mind:
Ensure your passport name matches the name on your tickets while traveling
Carry your marriage certificate during trips until you've updated your name on your passport
Reach out to the embassy for clarity on your situation, as varying legislation exists across different countries
Take advantage of the free name change option if your passport was issued less than a year ago
Remember, the process for updating your passport name isn't universal—specific application forms, documents, and fees may apply to your situation.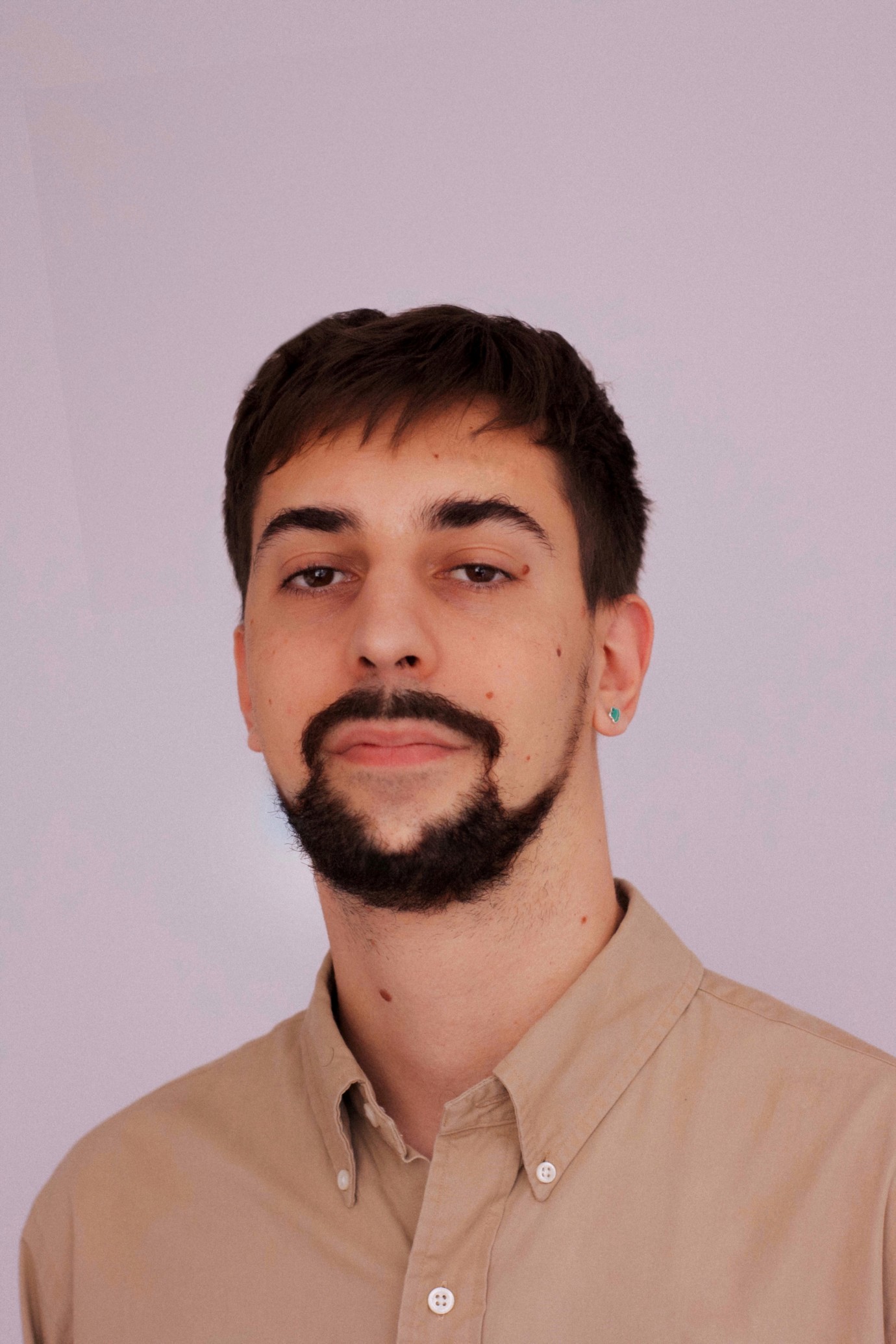 Born in Málaga, Alejandro Martín holds a Master's in Multilingual and Intercultural Communication. His love for travel mainly stems from his attraction to different gastronomic cultures and cooking. His other passions are Afro-American music and skateboarding. Alejandro is an author of passport photography articles.