Whether applying for the first time or renewing their passports, British citizens must meet a list of requirements. Supporting documents, countersignatory, passport photos—all of this can cause a headache. Fortunately, Post Office branches come to help.
Discover how to apply for or renew your UK passport via mail or the Check & Send service; we will provide all the necessary details for adult and children's passports. Moreover, make sure to read to the end and get familiar with PhotoAiD®—an innovative app that will help you get your British passport photos in just 3 seconds!
Jump right to:
Post office passport services
British applicants can process their passport applications with the post office in two ways. They can either send all the documents independently or use the Post Office Check & Send services. First, let us briefly discuss the former option.
Brits can get their passport application pack in one of the Post Office branches or by calling the Passport Adviceline. Then, they take full responsibility for the submitted documents and completed forms. Applicants should send the whole package in the pre-printed envelope that comes with the application to the following address:
HM Passport Office
PO Box 767
SOUTHPORT
PR8 9PW
United Kingdom
The passport fees must be paid before sending the application; UK applicants can use the following payment options:
debit/credit card with a relevant form completed and attached to the application;
cheque or postal order addressed to HM Passport Office
Cash is not accepted, and applicants take responsibility for processing the fees. Here is the table with all UK passport fees.
| Passport type | Fee |
| --- | --- |
| Adult standard (34 pages) | £85 |
| Adult enlarged (50 pages) | £95 |
| Child standard (34 pages) | £58.50 |
| Child enlarged (50 pages) | £68.50 |
That's quite a lot to take care of, isn't it? Thankfully, British citizens also have another option for their first-time and renewal passport applications: Post Office Check & Send services. The following sections will discuss them in detail.
Passport application at Post Office
Want to make sure that your passport application is completed correctly? You can significantly lower the risk of rejection by using the Post Office Check & Send services. They are available for applicants of all ages for first-time and renewal applications both in digital and paper form. Choose the one that best suits you and get your UK passport hassle-free.
Fortunately, the paperwork is reduced to an absolute minimum, and the Post Office staff takes care of your application form and supporting documents. Read on to discover how it works in different circumstances.
Applying for passport at Post Office: adults
As mentioned, UK applicants can choose one of the two available options for their first adult passport application: Digital or Paper Check & Send. They do not differ much (apart from the price), and both provide British citizens with top-notch services.
To use Digital Check & Send for your first-time adult passport, follow these steps:
Use the Post Office Branch Finder to search for the nearest locations.
Depending on the location, you might need to book an appointment before visiting the Post Office.
Ask the staff member for the Digital Check & Send service. They will help you complete the passport application form electronically.
The Post Office staff will take your passport photo at the location.
Bring all the supporting documents—the staff will check everything.
The Post Office will submit your passport application electronically and send your documents to the HM Passport Office using Special Delivery.
You must have access to an email box to use the digital service. Required documents for your first-time passport application include:
a birth certificate;
parents' passport details (if applicable);
countersignatory* details (name and email address).
*See who can countersign your UK passport and passport photo.
UK applicants must submit original documents; if this option is not possible, they are required to obtain an official copy. The documents will be sent back separately from the passport.
The total fee for the Digital Check & Send service is £91.50 (£75.50 online passport fee + £16.00 Post Office fee). The Post Office fee includes the passport photo and delivery fees.
For those who would like to use a more traditional option, the Paper Check & Send service is available. All the steps and required documents are significantly similar. Before visiting the facility, however, applicants must complete the form independently and provide 2 (two) passport photos.
Apart from bigger individual work, this service is also a bit more expensive; because of the paper form, the passport fee is £85.00, and the administrative fee of £16 remains the same.
For both Check & Send services, applicants can pay using a debit/credit card, cash, or a postal order addressed to Post Office Ltd. Cheques are not accepted.
Applying for children's passport at Post Office
It was no exaggeration when we mentioned little paperwork thanks to the Post Office Check & Send services. The documentation needed for a first-time UK passport for children is exactly the same as for first-time adult passports. Both Digital and Paper Check & Send services require passport details of the child's parents, and there must be a person who can prove the child's identity.
Children aged 12-15 must sign their application forms. Thus, there should be 3 signatures: the child's, the parents' and the countersignatory's.
The Digital Check & Send service costs £65 in total, while Paper Check & Send—£74.50.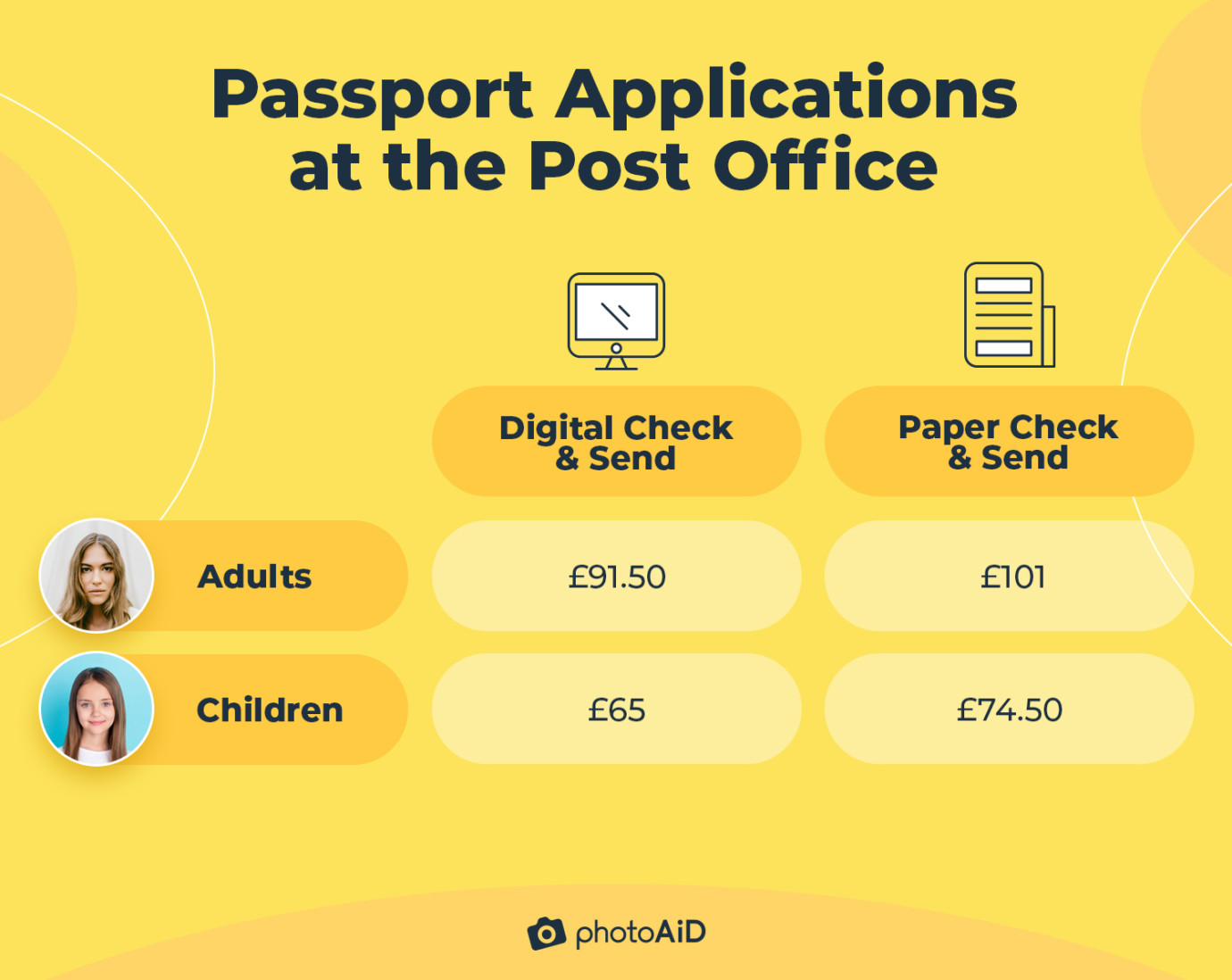 Post Office passport renewal
Does your UK passport expire soon? Would you like to renew your child's passport? Or maybe your passport has been stolen or lost—in any case, you can apply for a renewal at one of the Post Office branches.
Renewing passport at Post Office: adults
The renewal process of UK passports is conducted in the same manner as the first-time applications. This time, however, adult British citizens must also provide:
their current passports
proof of any changes (if applicable)
countersignatory's details if the passport was lost/stolen.
There are no separate fees for the passport renewal application; thus, applicants must pay:
a total of £91.50 for the Digital Check & Send service;
a total of £101 for the Paper Check & Send service.
Check out what to do if you need to renew your UK passport urgently.
Children's passport renewal at Post Office
Renewing your child's UK passport is carried out in the same fashion as adult passport renewals. Parents must remember about:
submitting their passport details for children under 16 (sixteen);
providing a countersignatory if the child's passport was lost/stolen or the child is under 12 (twelve).
The fees for renewing UK passports for children are the same as for first-time ones, that is:
A total of £65 for the Digital Check & Send service;
A total of £74.50 for the Paper Check & Send service.
Get your British passport photos without leaving home
The Post Office Digital Check & Send service offers to take your British passport photo at a given facility. The cost of 2 (two) passport pictures is included in the administrative fee (£16). However, those who choose Paper Check & Send or want to send their application via post must take and submit their passport photos on their own. So why not prepare your British passport pictures at home?
Meet PhotoAiD®—an innovative photo tool that allows you to create passport photos within seconds! Thanks to its advanced AI system and professional expert team, applicants can be sure that their pictures are 100% compliant with the official requirements of the HM Passport Office.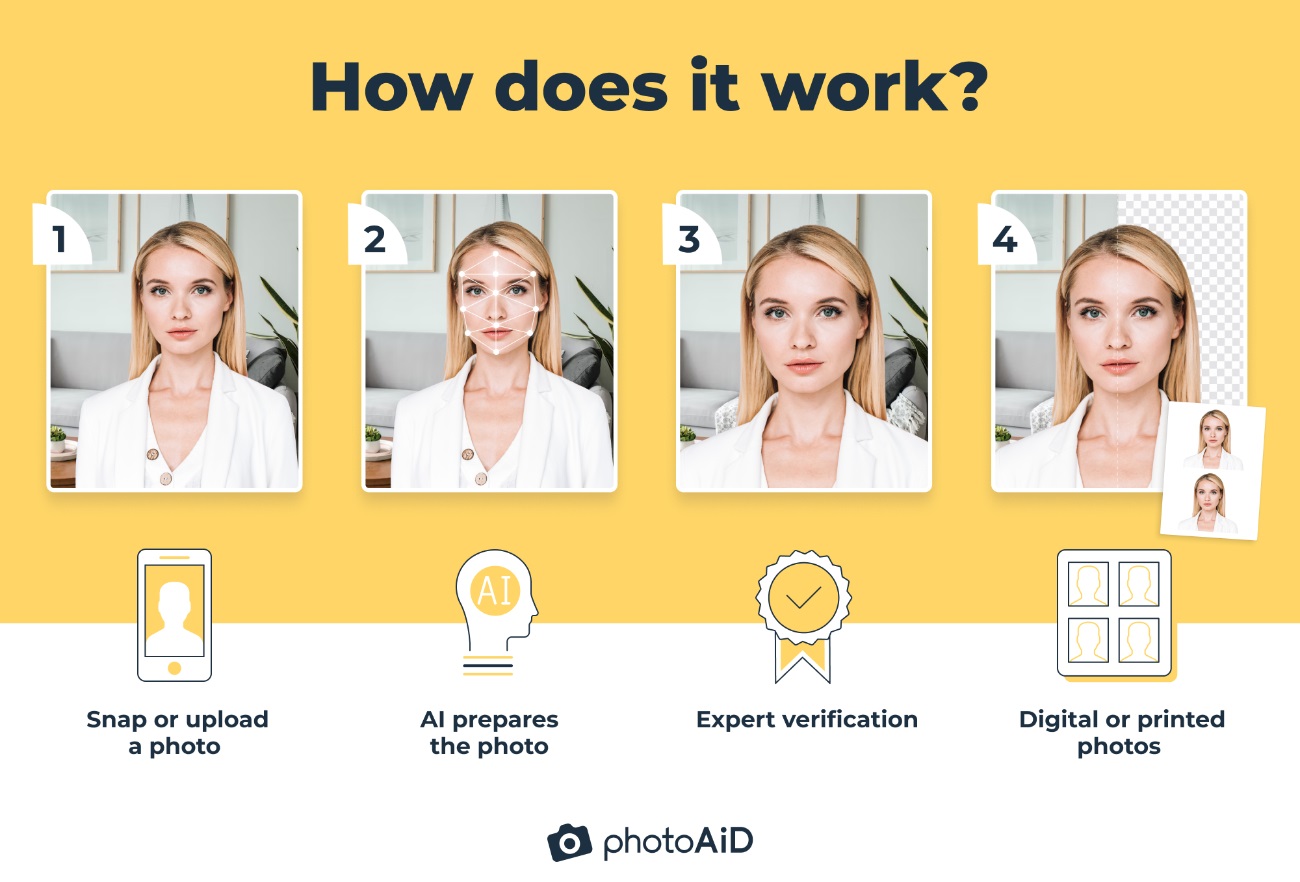 The PhotoAiD® application is reliable, super convenient and easy to use. No need to leave your room; get comfortable and take your passport photos in the comfort of your home. What's more, our photo tool is also suitable for children's passport photos. Save them the travel and turn passport photo-taking into real fun with the app's unlimited tries!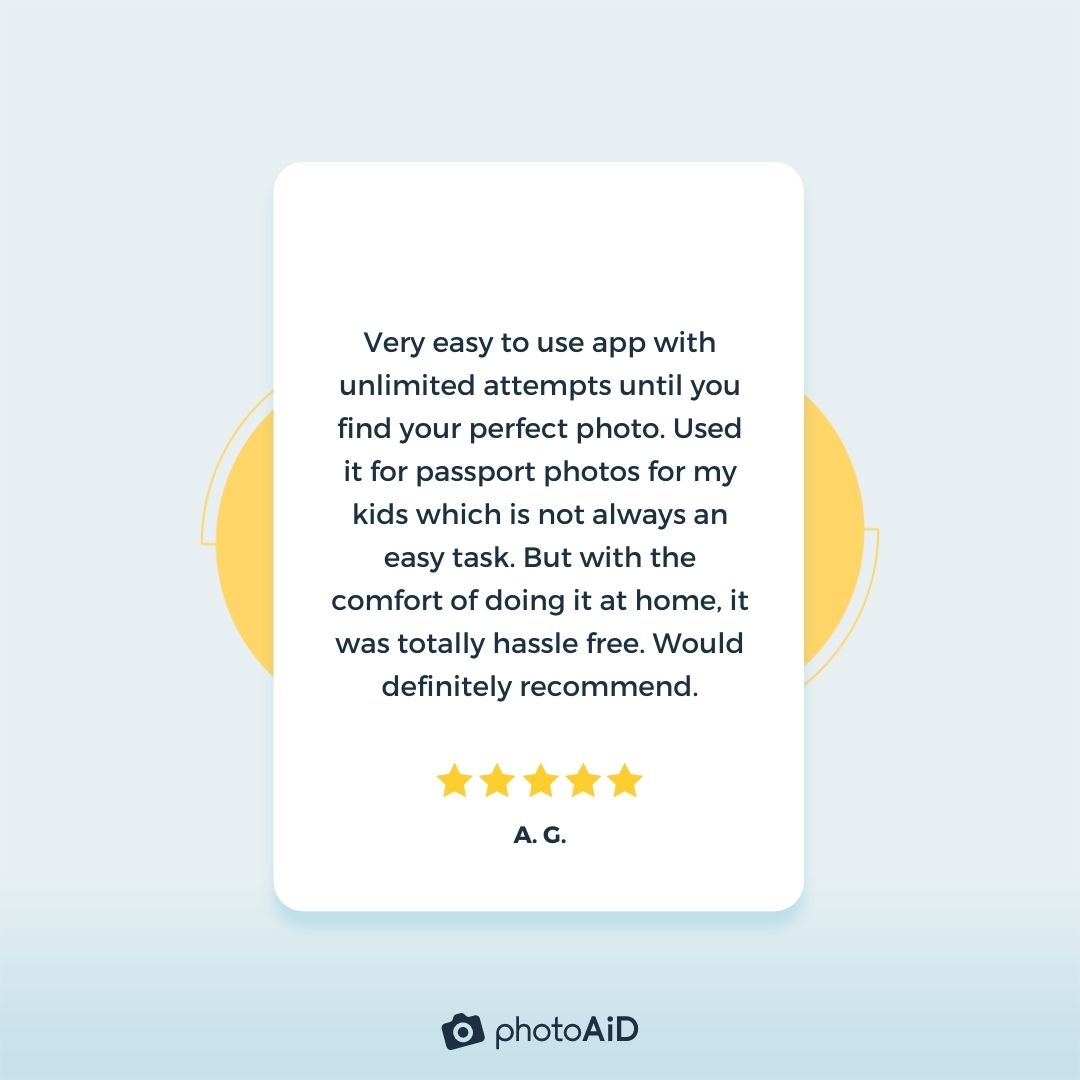 With the Post Office Check & Send service, you can make sure that your passport application gets accepted. With PhotoAiD®, you get the same guarantee for your British passport photos! Download our passport photo app on Android or iOS and try it today!
FAQ
Let us wrap up the essentials and answer the most frequently asked questions about post office passport applications.
Can the Post Office check my passport application?
Yes! By choosing the Check & Send service, a Post Office staff member will scan your passport application and ensure everything is completed correctly.
Can you get a passport application at the Post Office?
Yes, British citizens can get their passport applications right at the Post Office branch of their choice.
Can the Post Office countersign my passport?
Unfortunately, no, unless the Post Office worker has known the applicant for at least 2 (two) years. Discover other requirements and criteria on who can sign your British passport.
Can I renew my passport at the Post Office?
Yes, British citizens can renew their passports at the Post Office. The renewal process is available for both adult and children passports, and the applicants can use either the Digital or Paper Check & Send service.
Does the Post Office have passport application forms?
Yes, the Post Office branches can provide applicants with passport application forms.
Do all Post Offices accept passport applications?
Unfortunately, not all Post Office branches offer to process British passport applications. However, individuals can easily find the nearest branch by using the official Post Office Branch Finder.
Closing thoughts
Whether renewing or applying for a first-time passport, British citizens can do it easily using the Post Office Check & Send services. They are available for adult and children passports and can be conducted in digital or paper form. This way, applicants will be sure that their passport forms are filled correctly and that they have submitted proper supporting documents.
And if you want to be sure about your British passport photos too, check out PhotoAiD®. Take the pictures at home and get fully-compliant passport photos within seconds! 100% satisfaction or a 200% money-back refund!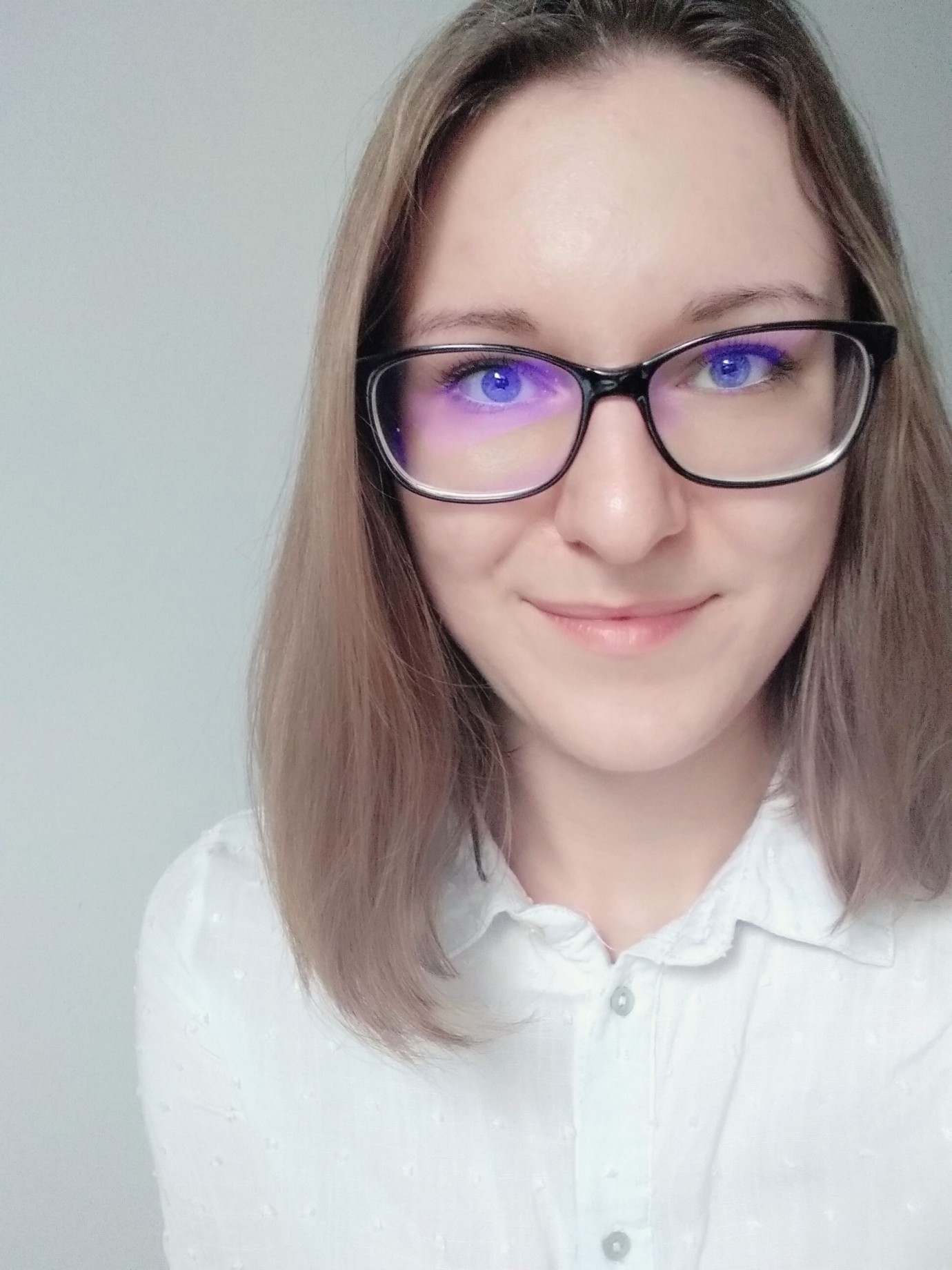 Graduated from the Institute of English Studies at the University of Wrocław, Roxana holds a Master's degree in psycholinguistics. As a language expert, she is deeply passionate about words and the writing process. Her free-time activities are a mixture of sports, books, self-development and travelling (or dreaming about it).