The New Zealand government recorded thousands of British citizens moving to NZ every year, with peaks of 6,728 (2017) and 6,100 (2019). Thesef UK nationals permanently residing in the country can access passport services through the dedicated channels of His Majesty's Passport Office.
This article will cover the whole process of British passport renewal in NZ and list all the necessary documentation. Keep reading to find out what you need to know to get through the process smoothly. We'll also explain how PhotoAiD®, an app with over a million users, can provide pictures for a UK passport abroad at any time.
Renew a UK passport from NZ online
The most straightforward and hassle-free way to get a new UK passport while living in New Zealand is to apply through the online service. The entire process can be completed on the UK government website, except for having to mail the old passport to complete the application.
Before explaining the procedure, it's important to clarify in which cases citizens can access UK passport renewal. According to the authorities, a British passport must meet the following requirements:
it's still valid or expired less than 10 (ten) years ago;
the personal information is still current;
it was never reported lost, stolen, or damaged.
Now, without further ado, let's get into the specifics of the process step by step.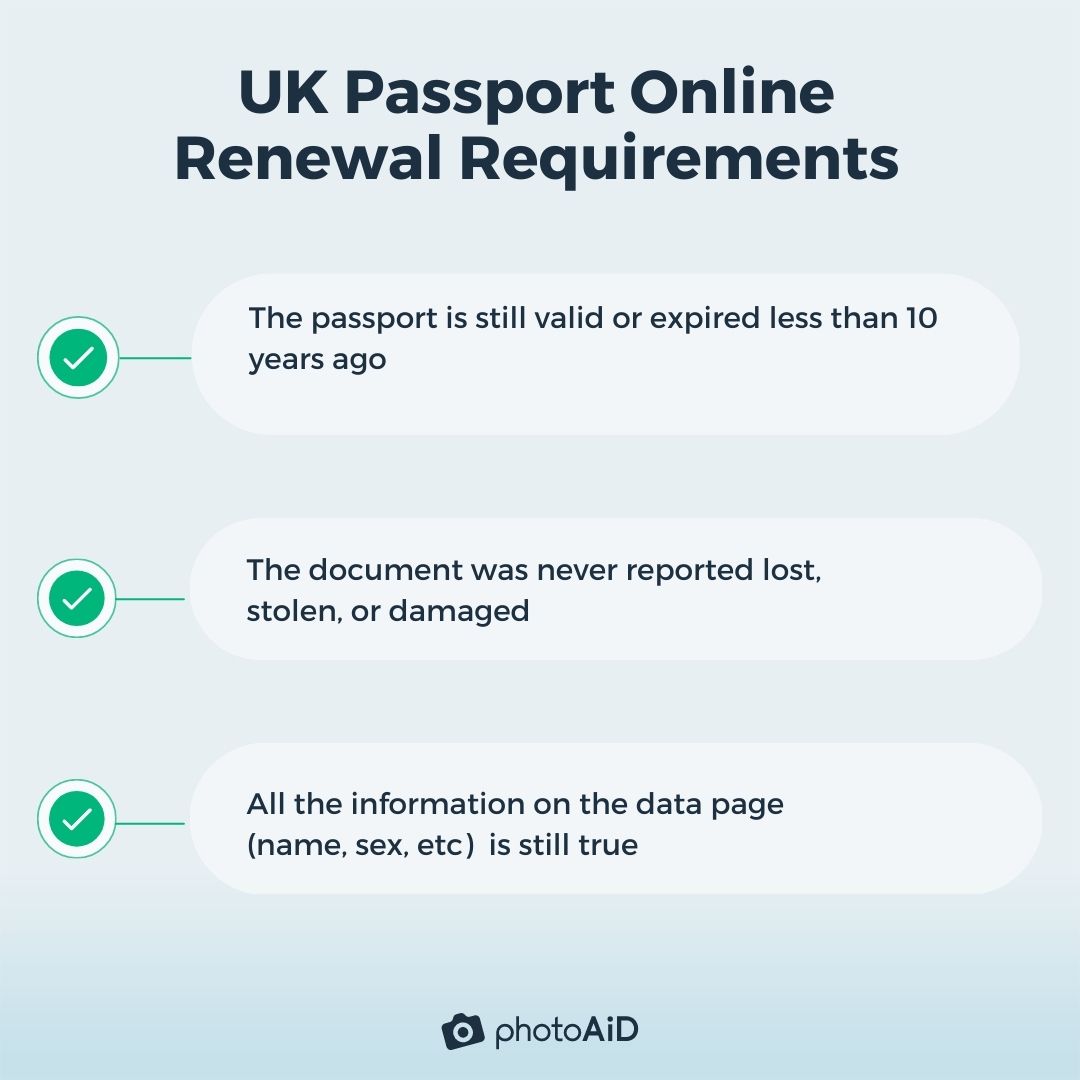 Step#1: Gather the required documents
UK passport renewals online don't require the applicant to provide extensive supporting documents to prove their identity and citizenship. To apply through the website, it's only necessary to provide:
Step#2: Complete the online application form
Go to the UK Government website and select "renew online." From there, the system will guide applicants through the passport renewal process one step at a time. Citizens need to insert their contact details and personal information, and provide the material listed above.
Step#3: Pay the processing fees
After providing the necessary material, UK citizens need to pay the application fees. The price to have a British passport renewed in New Zealand is £86, plus £19.86 in shipping fees. The only payment methods accepted by HM Passport Office are credit card and debit card.
Step#4: Mail the old passport to the UK
At the end of the process, British nationals will be provided with instructions to send their expired (or soon-to-expire) UK passport to the facilities in London. After the new document has been processed, both the old and the new passport will be sent back to the applicant.
The processing times for a British passport in New Zealand go from 4 (four) to 6 (six) weeks.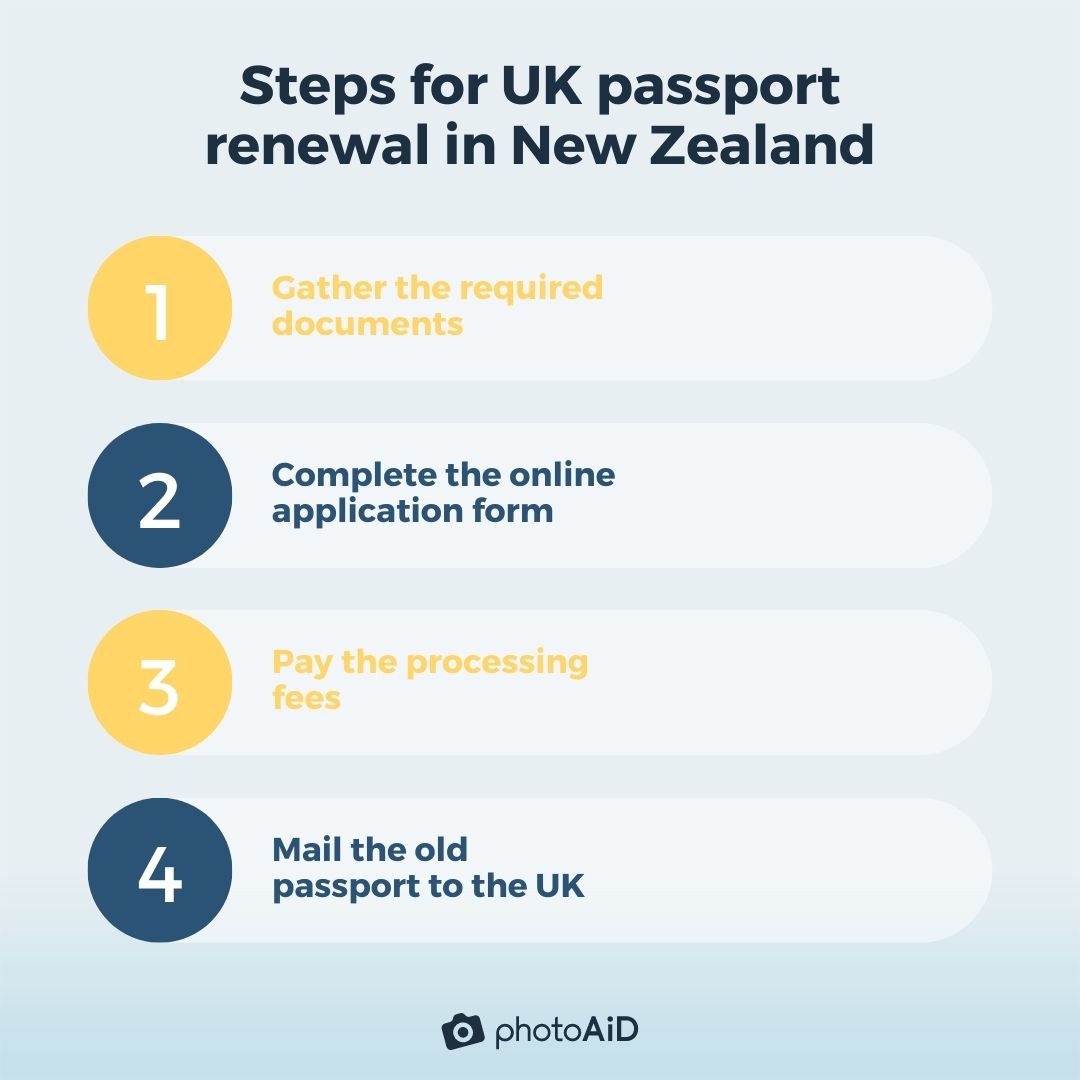 British passport renewal in NZ in person
Since 2019, the British Embassy and the British High Commission no longer handle routine passport services. In case of a stolen or lost passport, they can assist with an emergency travel document.
For all other passport-related matters, their website redirects to the online service or the advice line at +44300 222 0000 (available on UK times).
Renewing a child's UK passport in NZ
To renew a minor's British passport in New Zealand, in addition to the child's current passport and a new picture, UK authorities might ask for the following documents:
any other valid passports from other countries;
court orders regarding parental custody or the minor's residency agreement (if applicable).
Moreover, for children aged 12 (twelve) or younger, it's mandatory to find a referee to authenticate the passport photos to confirm their identity.
The fee for children's British passports is £56; the shipping fee is £19.86.
Just as for adults, the new British passport will be ready in 4 (four) to 6 (six) weeks.
British passport photos in NZ with PhotoAiD®
As a British citizen in New Zealand, it might prove challenging to get the appropriate digital passport photo needed for the application. Luckily, PhotoAiD® can help. 
Our app, used by more than a million people, helps applicants take perfect passport photos anywhere, 24/7.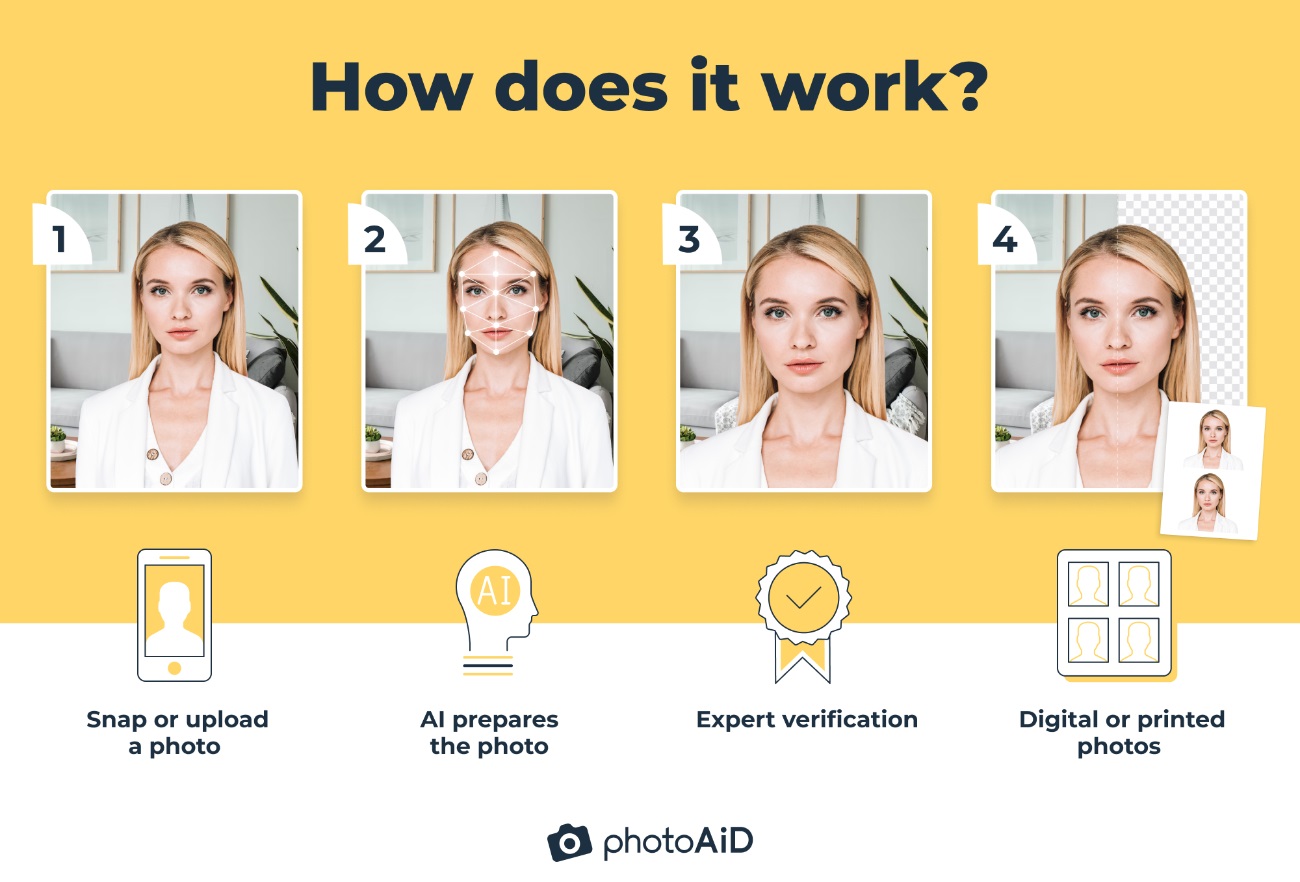 Thanks to our software, many of the issues that come with taking UK passport photos are now history:
The uploaded image will immediately be cropped to the required size and the background will be removed. No need to set up the right environment, any place can become just like a photo studio.
The built-in AI analyzes the image in detail, looking for any discrepancy from the requirements. In the end, you'll get a 100% guarantee of following the official guidelines of the British government.
We always provide a digital photo. Users will get it by email right after approval, ready to be sent for an online application form.
You can take all the snaps you need. With PhotoAiD®, users get unlimited tries to aim for the perfect passport photo. Great for all the family, children and infants included.
For those who need them, we can also provide the printouts on demand.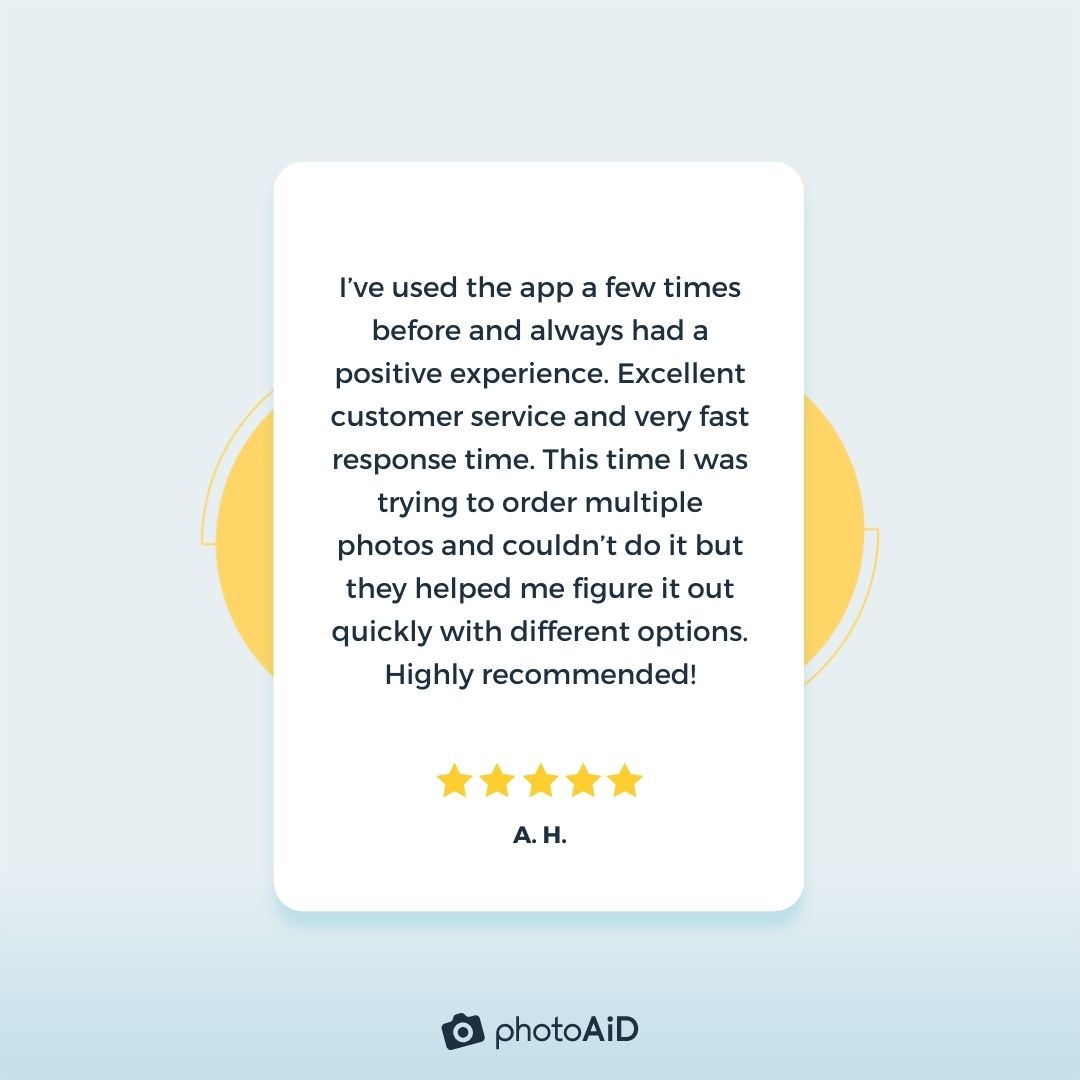 Find out more:
FAQ
To wrap up, we'll answer some common questions about renewing a British passport in New Zealand.
Can I renew my British passport in NZ?
Yes, British expats can get new passports through the online service at gov.uk.
How do I renew my British passport in NZ?
You can renew your UK passport by accessing the online portal through gov.uk and selecting "renew online." From here, applicants have to fill out the application form, provide their old passport and a passport picture, and pay the government fees.
Is expired British passport renewal in New Zealand possible?
Yes, an expired passport can be renewed in NZ, in the UK, or any foreign country provided it expired less than 10 (ten) years ago.
How long does it take to renew a UK passport in NZ?
Standard processing times in NZ are from 4 (four) to 6 (six) weeks. However, if there is high demand, applicants might have to wait more than 6 (six) weeks to have their passports delivered.
Conclusion
British people living in New Zealand can start their passport application process through the dedicated online portal. The entire application is handled online, without visiting any offices.
Submitting the request with physical paperwork at the High Commission is no longer possible; UK foreign offices provide consular assistance in other fields.
To get the necessary passport pictures, trust PhotoAiD®. We provide photos perfectly measuring up to passport standards directly from home, no special equipment needed.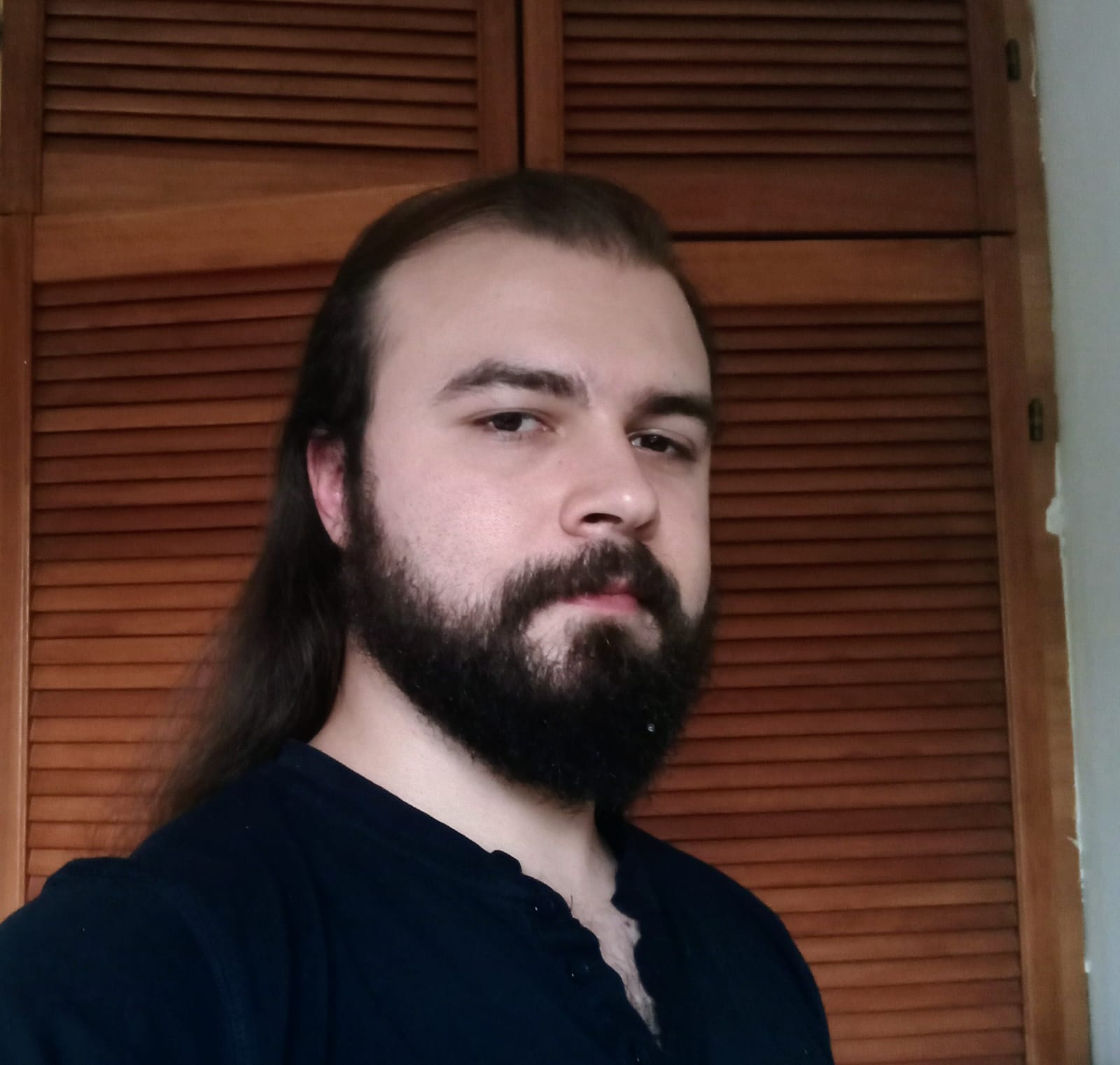 Riccardo Ollmert is a biometric photography expert at PhotoAiD. He studied languages and publishing industry at La Sapienza University of Rome. He is deeply passionate about travel and creative writing.